Erik Farblade
Name: Erik Farblade.
Alias: Blade.
Gender: Male.
Age: Thirty years old.
Race: Human.
Class: Warrior.
Traits:
 -Funny
 -Easily amused
 -Powerful
 -Brave
 -Clueless at the most inconvenient times
Physical Aspects:
 -Handsome
 -Exceptionally muscular
 -6'4" tall
Personal Gear:
 - Heavy, thick and spiked armor
 - One large sword, personally crafted
 - One large spiked wall shield simply because he is strong enough to carry both his sword and that at once.
 - One huge sniper rife to take down those extra tough enemies.
 - One tabard bearing The Fighters League colors.
Birth Region: Eastern Kingdoms.
Specific area or town: Redridge, Lakeshire.
Family:
 - Andy Farblade, Erik's father. He never knew Erik, and Erik never knew him. But this is where he gets his strength from. Andy was always training and was a very dedicated man. He knew what he wanted. And he knew he was going to get it.
 - Felicia Farblade, Erik's mother. She died during his birth therefore didn't know him either. She was a very tall and comical woman, therefore where he gets his humour, personality and height from.
Known friends:
 - Amelle, Erik's lover and cheeky lady.
 - Caryza, Erik's old shipmate and horny sidekick.
 - Thrundain, Erik's friend of which he met on his travels around Azeroth.
 - YOU! You just haven't met him yet!
History: Erik was born in Redridge thirty years ago. His mother died during his birth while his father was away, fighting the Horde and whatever else was around in those days, in which he died. Erik was never able to meet his parents due to their inconvenient deaths, so he was immediately sent off to an orphanage. Nothing much happened until he was around the age of six, in which he met his first real friend. Mellace.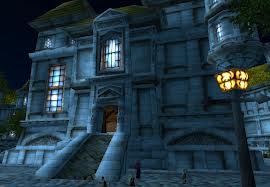 Mellace was a very depressive character to be around. He could never see the bright side of things even though he was far better off than Erik was. He grew up around his family, his mother, father and sister. He dragged Erik around causing all different kinds of mischief in the area and always managed to slip away, leaving him to take the blame. But Erik saw this as just another part of the fun. He never really understood how things worked, so he thought this was how it as MEANT to be.
Once they came of age, they signed up to be part of a crew of what later turned out to be pirates. A third person who signed up with the same crew was a half-kal'dorei girl named Caryza. Caryza was a much more mature person compared to Erik and Mellace and she definately knew how to defend herself if one of the crewmen came at her.
Erik daren't go near her until the day Mellace found a part of her that wasn't too depressive. Her immense sex drive. So that was the start of their strange little group of friends. Erik, Mellace and Caryza. Although they were very close, Erik was always the third-wheel in the group, as you can easily tell. Whenever it came to pulling pranks on the crewmen, or random passers by when they left servitude on the ship, Erik would always be the one left in the dust who would take the blame as he was a rather chunky character at this time and he could never keep up with them when it came to getting away from the scene.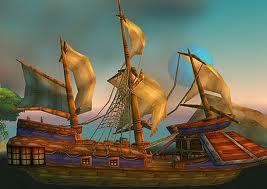 But all good things have to end, and Mellace started turning insane after Caryza left during the night one day. It was never about her, though... Erik could never understand what was wrong with him. He just knew that something wasn't right and that he could become potentially dangerous to be around, so he left him also and went away.
Afterwards he went to Northrend. He was much older now and had become a very fine warrior. An athletic body covered in miss-matched armor that he put together from scraps, and a large club filled with thick, iron nails. He managed to get quite deep, part way into the Grizzly Hills when he was attacked by a pack of large, hungry worgs. He stood no chance until he was stumbled across by a native to the area. One that was left behind when the first "humans" were sent to the Eastern Kingdoms. He patched him up well enough and got him back on his feet. Erik told this native about the rest of Azeroth and he became very interested, so he went with Erik when he joined up with the Alliance military. In order to help the crusade against the Lich King, and they managed to survive. Together, as soldiers.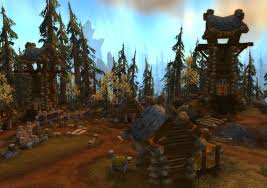 But again... This good thing had to come to an end. His new friend started to become lonely... Like he didn't fit in with the rest of the people in the Eastern Kingdoms. So during the night, his native ally went outside, behind the building they were sleeping in at the time with Erik's huge sniper rifle... And ended it. Put himself to rest. When he found him the next morning, it reminded him of Mellace and Caryza. The only people he has ever managed to care anything for had left him or drove him away.
Today
        Now he is living his life as the Master of The Fighters League, trying to teach the people within the Alliance who want to fight or prove themselves in combat. And he does this alongside his old friend, Caryza who he later ran into within Stormwind, and his loved one. Amelle. Both of which are now mentors within the League. Caryza, Mentor to agile fighters. And Amelle, mentor to brawlers. Meanwhile Erik himself mentors the powerhouses due to the fact while he was on these adventures he had managed to gain a substantial amount of muscle.
Themesongs:
Last edited by Erik Farblade on Tue Sep 10, 2013 7:58 pm; edited 3 times in total (Reason for editing : ANOTHER THEMESONG MUTHA FUCKAS!)

Janard Karn




Posts

: 66


Join date

: 2013-02-18


Age

: 20


Location

: England, Stoke. (Shit-Central)

Character sheet
Name: Janard Karn
Title: Ex-Bloodsail Corsair


A few odd and interesting quotes from Erik's existence.

"What the fuck is this guy taking... Like... Seriously? I was born in the Grizzly Hills, and I don't even treat game like that!" Agazar to the people around him while Erik was fucking a bandit forwards, backwards and side to side.

"Now Mellace is dead... I just want to say that... I always thought you were the cute one, Erik." "That's just fucking sick." A conversation between Caryza and Erik.

"Erik?" "Maybe... Do I owe you money? If so... I'm not Erik. It's the guy over there. Short. Bearded. kinda leperous..." Erik to most people after a long duration having not spoke.

"Caryza, I just want to ask... How many different infections and shit are stuffed into that... Area... of yours? I mean... You fucked Mellace, there's gotta be atleast... Twenty seven..." Erik to Caryza while she's acting like her horny self.

Janard Karn




Posts

: 66


Join date

: 2013-02-18


Age

: 20


Location

: England, Stoke. (Shit-Central)

Character sheet
Name: Janard Karn
Title: Ex-Bloodsail Corsair



Janard Karn




Posts

: 66


Join date

: 2013-02-18


Age

: 20


Location

: England, Stoke. (Shit-Central)

Character sheet
Name: Janard Karn
Title: Ex-Bloodsail Corsair



Janard Karn




Posts

: 66


Join date

: 2013-02-18


Age

: 20


Location

: England, Stoke. (Shit-Central)

Character sheet
Name: Janard Karn
Title: Ex-Bloodsail Corsair



---
Permissions in this forum:
You
cannot
reply to topics in this forum