Throughout the night multiple copies of the same poster starts to spring up; pinned outside bars, along the canals, by barracks and shops and also handed out in the streets to people passing by...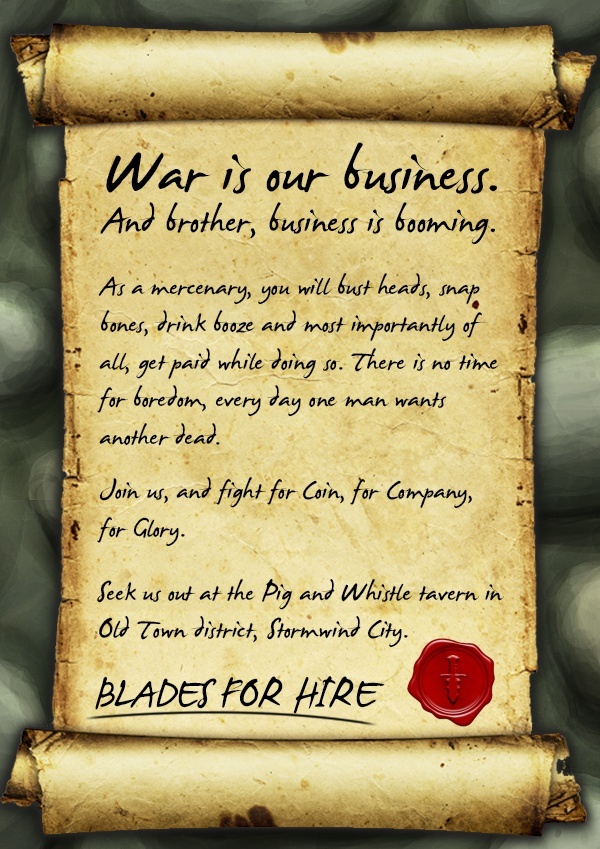 The Blades for Hire are an elite group of mercenaries with years of experience in most fields who take pride in their work and their martial prowess. With first class experts in almost every fighting specialization you can imagine; explosives, arcane, frontline and melee soldiers, rangers, healers, assassination, espionage, engineering and many more, we are prepared for any scenario on the battlefield – making us the obvious choice no matter the job.
We also train regularly to keep in shape and learn new battle tactics, and to strengthen our recruits.

Our ranks follow a roughly military setup, as follows:


Cadet – The lowest rank, fresh recruits, it is to be considered a trial period for freshly-joined members.

Soldier – The soldiers make up the main bulk of the company and they are essentially cadets that have proved their worth in some way or another.

Veteran – The veterans have authority over cadets and soldiers in the absence of officers. They are soldiers whom have repeatedly proven their diligence, hard work and dedication to the company.

Lieutenant – The Lieutenants are assistant officers that work closely with the Captains to make sure jobs are flawless, security is topnotch and overall make their lives a little more comfortable.

Captain – The Captains are handpicked by the Commander for their skills, dedication, loyalty and hard work to lead the company in the Commanders absence.

Commander – The Commander is the head spook, top dog and highest ranking officer of the company.


The Blades for Hire are a band of highly trained, morally gray mercenaries!
We intend to run regular open community events such as the Bare Knuckle Boxing tournaments, masquerades and other festive shenanigans. But we are also always up for involvement or assistance in other events where you might need extra numbers. A few examples being:


A guard guild calling in extra help to crack down a crimewave.

A criminal guild needing a few extra bodies to do their 'debt collecting' or 'tolls'.

A noble throwing a classy party and wanting some guards to keep out the pesky lower class elements.

Two guilds come to war and need some hired help to swing the numbers their way.

An expedition requiring well-trained escorts.

A paranoid Gnomish inventor hiring a subtle investigator to keep an eye on and sabotage his rival's work.

A person in need of bodyguards for whatever reason.

And many more!


"I want to join!"
Awesome!
Would you burn down an Orphanage for an obscene amount of money?
Are you willing to obey orders without hesitation?
Are you prepared to take IC consequences for IC actions?
If so, hop on over to our
>
website
<
to apply!

We are committed to keeping a high quality of RP, a friendly OOC atmosphere and keeping things reasonable and realistic. Therefore we maintain a
Three Strikes and You're Out
rule for significant OOC or IC breaches of our rules. Should you ever have a serious problem with a guild member, please take a screenshot, if possible, of the event in question and send it over to the officers mentioned below so we can resolve the problem to the satisfaction of all involved.

Who to contact in game
Kashou, Timmah, Doowor, Redsnout or myself Sohan.

Bare Knuckle Boxing:
Last edited by Helrog on Sat Aug 31, 2013 11:04 am; edited 1 time in total
Since the old Blades for Hire thread in this section is very outdated I decided to make a new one with the current information.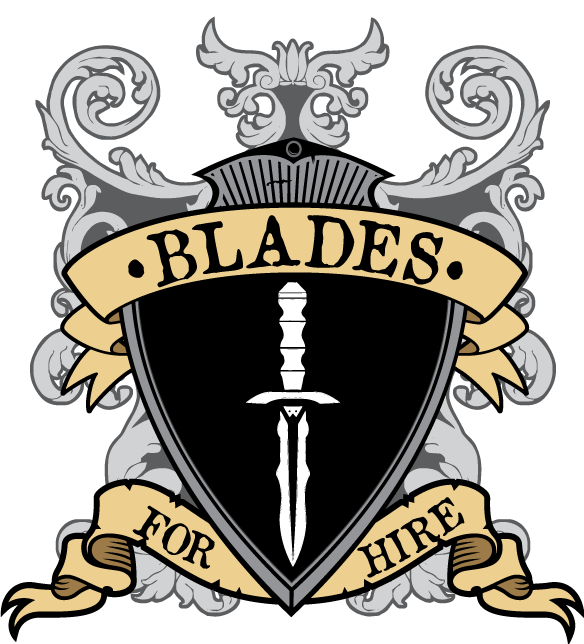 An old but still awesome banner made by Kittrina
Good to see the Blades for Hire is indeed in good hands. I was already starting to get worried if you'd fall out from the Roleplaying scene. Good that it isn't happening. This former Lieutenant of the Blades approve this guild!
Also seen the Bare Knuckle Boxing, oh please start hosting these to again:
[A] Tournament - King of the Steel Boot
[A] The second Tournament of the King of the Steel Boot
King of the Steel Boot! THREE!
King of the Steel Boot IV
King of the Steel Boot V
King of the Steel Boot VI
King of the Steel Boot VII!
Also a curious question, why did you cease to use http://www.dahren.com/bfh/forum/index.php site? Wowstead one was Blades old one which you apparently took back into use.
_____________________________________________________
(A) Skarain-DB - Skarain Feirand: Magi of the Underworld, Mother of The Flame.
(A) Reljen-DB - Azuria Bloodmoon, "Blue": Damaged Night Elf
Also known as Nakris, Mahruon, Halisi, Reljen, Senrar, Inran and Flickÿ

Having a break from wow. Still checking forums now-and-then for forum section & change requests.

Contact: Skarain#2346(Btag), Skarain#8885(Discord), inejaro(Skype)
Forum Moderator: Contact in regarding questions or issues with the forum.

Skarain




Posts

: 2638


Join date

: 2011-08-04


Age

: 23


Location

: Finland

Character sheet
Name: Skarain Feirand
Title: Independent Arcanist


Their was an issue with moderators if I remember. New ones were not able to be instated and with the old ones quitting WoW the site became somewhat redundant, so Blades had to move to a new website.

ALSO ; Glad to see the Blades kicking again, the bare knuckle brawls were always fantastic fun.

Anivitas




Posts

: 642


Join date

: 2012-07-22


Age

: 24


Location

: London

Character sheet
Name: The Reaper.
Title: Titleception.


Inran: Would be fun to bring those back indeed, I will see if I have the time for it now when the new schoolyear begins. For now I will only host the Bare Knuckle Boxing tournaments and occassionally masquerades

Wonderful new registry post.

erwtenpeller




Posts

: 6481


Join date

: 2011-06-03


Age

: 31


Location

: Netherlands

Character sheet
Name:
Title:



Similar topics
---
Permissions in this forum:
You
cannot
reply to topics in this forum