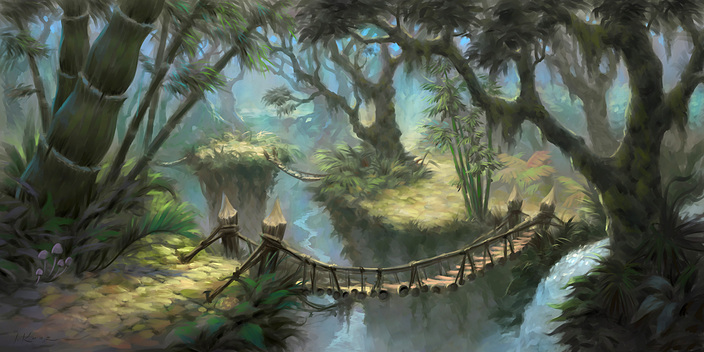 Character name:
Zimbula
Alias:
Zim
Gender:
Male
Age:
25+
Race:
Jungle Troll
Class:
Headhunter
Birth region:
Stranglethorn Vale
Specific area/town:
Find out for yourself!
Family:
Find out for yourself!
Known friends or enemies:
Shatterspear Tribe (Friendly)
Description:
Zimbula appears as a quite average Jungle Troll in body build, and usually seems pretty happy about life. His face is covered in war paint and the braids of his hair have several small trinkets, bones and skulls hanging in them.
Most of his armour and clothes seem to have many pockets, and nearly all of those pockets seem to be entirely stuffed with various items. Usually this consists of herbs, more herbs and trinkets.
Personality:
He has a quite relaxed life style and simply loves partying (Drinking, smoking herbs, dancing, women), although he might appear a bit crazy at times. His knowledge is mostly limited to what he has learned from his tribe (Being the Shatterspear Tribe) and he therefore finds everyone that's not a Troll quite weird. When fighting he uses a variety of trinkets and controls the spirits of dead animals, but he might be a bit comical at times. It wouldn't be a shock if he started rolling a joint mid combat while dodging the enemy's blows.
History:
Find out for yourself!
Things you may know about this character:
He comes from the Shatterspear Tribe that used to be in Darkshore (Originally in Stranglethorn Vale).
Not having grown used to the Horde's customs he has tended to eat his victims regardless of race in order to calm the spirits until just recently.
Things you may not know about this character:
Find out for yourself!
Possible crime record:
None.

Gor'Thrak Frosthowl




Posts

: 779


Join date

: 2012-10-03


Age

: 22


Location

: Norway, Sør-Trønderlag

Character sheet
Name: Gor'Thrak Frosthowl
Title: The Bloodaxe


Last edited by Gor'Thrak Frosthowl on Tue Mar 19, 2013 5:11 pm; edited 2 times in total

Gor'Thrak Frosthowl




Posts

: 779


Join date

: 2012-10-03


Age

: 22


Location

: Norway, Sør-Trønderlag

Character sheet
Name: Gor'Thrak Frosthowl
Title: The Bloodaxe



Samian/Bismack




Posts

: 395


Join date

: 2011-08-24


Age

: 27


Location

: Grove Street




---
Permissions in this forum:
You
cannot
reply to topics in this forum