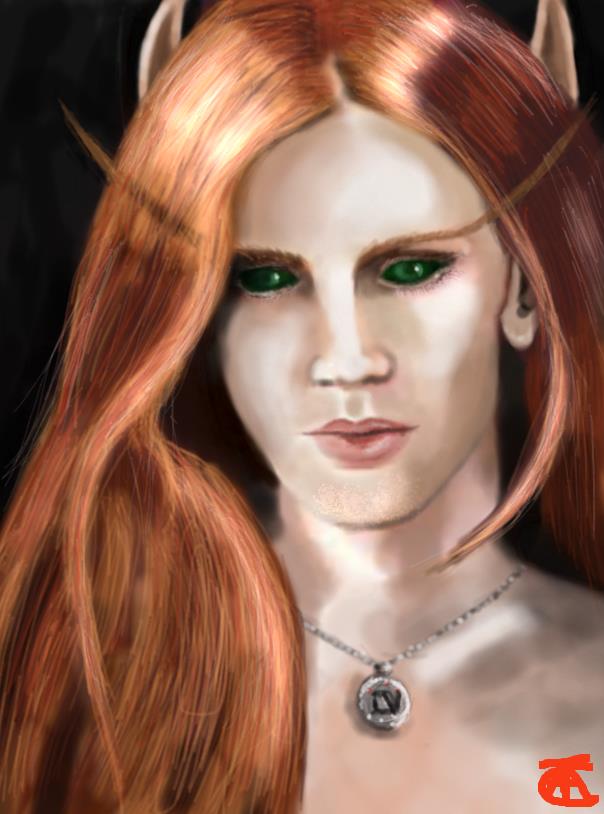 (art by Grimborne/Dareil)
Character name:
Darilas
Alias:
Dari, Shaft
Gender:
male
Age:
unknown, somewhere in the range between 85 and 120
Race:
Sin'Dorei
Class:
Hunter
Birth region:
Old Silvermoon
Specific area/town:
unknown
Family:
 husband Leithari/ Nathrian An'thalan, adopted son Ethelon Lionfeet, adopted son Kaz Lionfeet
Known friends or enemies:
ex-partner Dareil Sin'Valor, Sir Florizel (friend), Solanum Devilsgrave (friend), Emrys Sunwing (friend), Pestilence Sid'he (friend), Celistra Silverstrike (friend), Nessra Sunbinder (enemy), Badhoof (enemy), several others (both enemies and friends)
Description:
Has his long auburn hair done in a sideways ponytail. He sports a muscular and agile body which is covered in several old and faded scars. He obviously cares a lot about his hair and clothes, always trying to look fashionable. His most distinctive facial feauture is his nose, which looks like it has been broken and healed several times. He has deep-green eyes and his face is otherwise scarless.
Personality:
Chaotic-good, very sensitive and passionate about the things he believes in. Can come across as naive and under-educated. Has been known to be severely depressed in the past, but also as a generally kind and cheerful person, who makes friends easily and hates fights. Despite all that, seems to get himself caught in fights regularly.
History:
Being left by his parents at a very young age, Darilas learned to fend for himself long before he made his way up in society. He used to roam the woods with a lynx as a companion, to move to the city when he was older and try to make a living as a rentboy. After some time, he was taken in by a noble, sir Emberheart, as his seneschal. After this, things started to look better for the young man and he could give up on his dubious job to become a tailor and later, a fashion designer. He joined the Sin Belore shortly after that, having been taught to defend himself from several streetfights. He became a loyal soldier and even made it to a commanding rank, when things took a turn for the worse again and he got into conflicts with fellow officers. He left the unit last year, to reconsider his options. After that, he joined the Shatterskull Marauders and climbed in the ranks rather quickly. Unfortunately, he passed away during a mission in Thousand Needles.
Things you may know about this character:
Was featured in Elfe Magazine several times. Is openly gay and doesn't mind flaunting it. Collects tallstriders.
Things you may not know about this character:
Took mercy on one of his greatest enemies, Pork, and let him live instead of killing him.
Possible crime record:
Has been arrested and taken a public beating for fighting Pork. Other then that, a clean slate.
Other information:
Plays the lute and has been known to perform at parties.
Last edited by Darilas on Wed May 22, 2013 12:43 am; edited 2 times in total

Darilas




Posts

: 673


Join date

: 2010-06-08


Age

: 39


Location

: Amsterdam, the Netherlands

Character sheet
Name: Darilas Lionfeet
Title:


((updated as the character died))

Darilas




Posts

: 673


Join date

: 2010-06-08


Age

: 39


Location

: Amsterdam, the Netherlands

Character sheet
Name: Darilas Lionfeet
Title:



---
Permissions in this forum:
You
cannot
reply to topics in this forum