A Guide to Blood Elf Roleplay
This guide is a bit of a rushed work in progress. Input and the likes is very welcome and I am sure I am repeating myself on several places during the guide. The guide is a result of several other guides, wowiki and general information from the game, combined into this.

Table of Contents
Introduction: Blood Elves and the Horde
Chapter one: Mindset
- High Elf mentality: Benevolent aristocracy
- Blood Elf mentality: Bitter survival
- Post-Reclamation Blood Elf mentality: return to Light
Chapter Two: Psychology
- The Passions of Youth
- Life
- Aging and Death
- Society vs. individuals
Chapter three: Attitude and Behavior
- Attitude and behavior
- languages
Chapter four: Appearances
- clothing
- grooming
- characteristics and appearance
- High Elf and Blood Elf differences
- fel elves
Chapter five:
-Magic, addiction, corruption
- Dealing the addiction
Chapter Six Culture and Society
- Sin'dorei Culture
- trading with other races
- Opinions on neutral races
- Attitude towards other races
Chapter seven: Leisure
-Arts and crafts
Chapter Eight: History
- Kaldorei
- Queldorei
-Sindorei

---

---
Introduction: Blood Elves and the Horde
Ever since their introduction with The Burning Crusade expansion, there's been much talk of Blood Elves "ruining" the Horde by simply not fitting into the fierce mentality of the faction. Looking even a little past appearances, the complaint simply doesn't hold water - under surface appearances, Blood Elves are far more Horde than Alliance in mentality. They are not humans with pointy ears, any more than they are Victorian and asexually ethereal Tolkien Elves. They aren't even the cliched Anne Rice vampires, "except with magic addiction instead of blood addiction". Though prettier on the outside and more political than most Horde species, as a race Blood Elves share the ferocity and some core beliefs as all the Horde races. More importantly, they share the same recent history and crisis. They belong with the Horde for the same reason as all the other races: for desperation. To survive, they have no choice but to accept the allies they have, and be grateful for them.

Like most Horde races, Blood Elves have a glorious past, now lost to them. They come to the Horde as the last 10% still standing after a disastrous war: this is much like what the Orcs faced in Kalimdor after the Second War, or circumstances that drove the Forsaken and the Darkspear to join the original Horde after the Third War. Like the more tribal Orcs and Tauren, the Blood Elves have deep respect for their ancestors and their fallen warriors; they wear red as a tribute to the hundreds of thousands lost saving Quel'thalas. Though historically elves and trolls are enemies, the Troll Wars were fought with the Amani trolls, not the Gurubashi tribes the Darkspear hail from. And though formerly members of the Alliance, the Blood Elves have as little cause to love their former allies as the Forsaken do. Like the Forsaken, they were abandoned by the Alliance in their hour of need; for their pragmatic willingness to make hard choices if it comes to a choice between high principals and survival, they find themselves branded traitors; for their thirst for magic, they have been demonized. As a species, the Blood Elves are compelled to get along with the Horde, or perish alone.

But - again something all Horde species have in common - for all their desperate need, Blood Elves are not beggars or victims, nor anything but proud of who they are. The core of Blood Elves is their tenacity and their sense of righteousness, even entitlement. This is not the first time their civilization has been razed and rebuilt from ashes. They are the tenacious survivors of a race that has made war with dragons, demons and trolls; they have survived the threat of genocide by their kin, built a new home in exile, and always come out with their pride and identity and beliefs intact. If they are anything, it is survivors, who adapt to their fate and find a way to go on with their culture and heritage intact. Kaldorei, Quel'dorei or Sin'dorei, more than anything Blood Elves are survivors with a deep sense of racial identity.

Perhaps the core of RP'ing Blood Elves in the Horde is that theirs is an alliance of convenience. Though the survival of Quel'thalas requires bowing to the warchief, though they may even be able to find things to respect and identify with in the savages of the Horde, all of this exists only because a Blood Elf's first loyalty is to his people - and right now, his people need the Horde.
---

---
Chapter One: Mindset
At Burning Crusade launch, Blood Elves were primarily described as vicious survivors, hungry for revenge for their destroyed home and desperate for magic to feed their addiction. Much of the addiction was resolved by the end of the expansion, with the fall of Kael'thas and Illidan and the restoration of the Sunwell - the nation's thirst for vengeance was addressed in Wrath of the Lich King, with Arthas and the Scourge finally being brought to justice for the devastation Quel'thalas suffered. The last ten years have been a tumultuous and traumatic period in any Blood Elf's life - with 90% of the race killed in the Third War, it's almost freakish for a Blood Elf not to have lost both friends and family.

Still, for a race whose natural lifespan measures in the thousands, how much should this recent trauma count for? Even the youngest adult Blood Elf will have at least a century of life behind them. How do we, as teenage or even middle aged players, go about building that sort of experience and perspective into a character?

One way is to take a look at the recent history the current Blood Elf generation have lived through, and deciding which of those experiences have left the most powerful mark on your character's personality.
---
High Elf mentality: Benevolent aristocracy
- Descended from the Highborne of queen Azshara's court the Quel'dorei had the sort of formal, civilised and peaceful culture one might expect from a society whose entire founding population had, at one time, considered themselves the aristocratic nobility of their species. - Taught humans both magic (involved in founding the Order of Tirisfal and the Kirin Tor) and philosophy (taught humans to think of the Light as a principle, not 'god'). Nevertheless, elves remained apart and aloof from human society, and limited carefully what they were willing to teach. Lore suggests the more powerful of elven magics were always held back, and only one human in all history - Nathanos Marris - was considered adept enough to train with elven rangers. - Quel'dorei are no more - of the 10% of the Blood Elf race that survived, only 1% had the strength of mind to resist the addiction and not resort to fel magic and manatapping whatever was available after the war. Most if not all of them fled Kael'thas's rule and joined the Alliance, and are now viewed as the enemy. - How this applies to role-play: lore suggests elves had a rather divided view of their role on the world. On the one hand, with their greater life experience came the responsibility to watch over the world like younger races couldn't - but since they were so much more experienced and capable, they also set themselves apart. It's debatable whether this was out of a sense of superiority, or a more emotional desire to not become too close with humans who will grow old and die in the time it takes for a Quel'dorei to just grow up - interesting roleplay characters can be built around either option, or a combination of them.

---

---
Blood Elf mentality: Bitter survival
- Survivors of the Third War that almost annihilated the race, only the inhumanly lucky haven't lost friends and family. Assumed their new name as a testament to their will to survive, rebuild and take revenge for those who died. For much of this period, the people hailed Kael'thas as the Sun King and the savior of his people; most knew nothing of his dealings with Illidan and the Burning legion, only that he somehow supplied Silvermoon with magic that kept the addiction at bay and the survivors from becoming mindless Wretched. To Blood Elves, humanity are the traitors who denied help when Quel'thalas most needed them, and then turned on their former allies for taking help from the only people who would give it - the Naga. - How this applies to role-play: lore suggests Blood Elves are pragmatics. They will gladly die for their kin and kind, but they will also accept fairly horrific measures to survive. Perhaps they believe that the benefit their civilization and wisdom offers the world forgives a little evil done to keep it alive, perhaps they are simply blinded by rage for what they have suffered, and still too close to the tragedy to even consider the implications of their actions, past what makes them feel better right now. Or perhaps they remember how things used to be, and are horrified by what the need to survive has driven them to - ten years isn't much in the life of someone who has lived centuries. Again, both extremes offer good role-play possibilities.

---
Post-Reclamation Blood Elf mentality: return to Light
- Rebuilding began with the restoration of the Sunwell, but will continue for decades and centuries yet, before the race has recovered it's former strength. Vengeance for Quel'thalas was claimed when Arthas fell in Northrend. The Blood Knights have pledged loyalty to the Naaru, and regent Lor'themar has pledged the Sin'dorei to the Horde. The Blood Elves have a place in the world again and some direction, but with Cataclysm, the world is about to go to pieces around them. - How this applies to roleplay: in many ways, the Blood Elves have passed a turning point in their history. Alliances have been broken and made - for better or for worse, they now owe their existence to the Horde and their sanity to the Naaru, and this has been fact long enough to sink in. The most immediate targets for Sin'dorei vengeance have been destroyed, and with the pure energies of the Sunwell rather than fel magic slaking their addictions, many may be remembering gentler Quel'dorei values. Deathwing changes all this, and throw the Sin'dorei back into wartime again. How does your character take to this - with the Quel'dorei mentality of safeguarding the world, or with the Sin'dorei mentality of surviving at any cost, and paying the price later?

---

---
Chapter Two: Psychology

The Passions of Youth
Just as human younglings rage against the wisdom of their parents, so do the elven young. Many elves shy of their third or fourth century feel the stirrings of anger, impatience, and a craving for excitement and the shock of the new. That is why some elves choose the path of the wanderer, the adventurer, and they learn of their world and its dangers and mysteries.

Young Quel' and Sin'dorei are most like the humans in their passions of youth, and they adapt to their more transient surroundings They eat over-spiced animal flesh and other abominable foods; they wield simpler, cruder, combat-oriented human magic; and they even mate with non-elves. Many young elves do not accept their racial path and fully embrace their elven heritage until they approach adulthood, between 100 to 150 winters.

Many young Blood Elves, fed by Kael'thas' tales about a new home away from their native soil and drunk with fel magic, drive this point to the extreme by abandoning High Elf traditions and customs outright in blind passion. The Quel'dorei Magisters and Farstriders cooperated seamlessly? Let's instill dislike and disunion! The High Elves were pleasant and patronizingly aloof? Let's cloak ourselves in arrogance and smug superiority!

More reasonable (usually meaning older) Sin'dorei can only shake their heads in disbelief, educate and hope the powers of the renewed Sunwell and the flow of time will give wisdom to these youngsters.
---
Life
The life of the Quel'dorei was a long period of tranquil bliss until the invasion of the Horde and events in the Warcraft series. Still, like any mortals, they aspired to greatness, endured strife and conflict and marked the passage of time with rituals befitting their culture. Until the fall of Quel'thalas the High Elven culture was among the richest of any humanoid race. Their long life spans allowed them to pursue their interests for longer than humans do and perfect their skills. The result was a complex culture rich in art, knowledge and all the traits found in the highest of civilizations.

However, the Fall and the long years without the Sunwell reminded the elves, High and Blood, just how fragile the works of mortals are should those with power really, really wish to put an definite end to them. The Sin'dorei endured, but not without many facets of their society becoming flawed. The re-birth of the Sunwell pushed the wounded culture away from decadence, restoring hope and power to the elves when they needed them most.

Currently the Blood Elven culture is a scene of a battle between decay and corruption which have befallen the race after the Fall and the noble, enduring elven spirit, bolstered with renewed power, hope and light.

---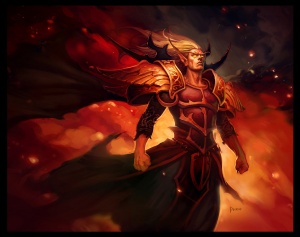 ---
Aging and Death
High and Blood Elf children grow almost as swiftly as human children to the age of 15 or so; a 10-year-old Elf boy and a 10-year-old Human boy are nearly the same size and emotional maturity. The Elf will be taller and leaner than his human playmate. He is also quite likely to be more patient, observant and self-sufficient simply due to the influence growing up in an Elf household.
Humans finish their "filling out" and full adult growth by about 20, but elves take a little longer, rarely reaching their full height and weight before age 25. After that elves remain virtually timeless, decade after decade. Not even another Elf can tell at a glance whether an Elf is 25, 50 or 100 years of age. A few minutes' conversation dispels the mystery, of course; elves gain experience, grace, emotional maturity, patience and wisdom during their ageless decades. Even so, some Elves are remarkably poised for their age and some of their romances tell tales of grieving elves 150 years of age who rediscover life and joy in the arms of a lover of only 25 or 30 years but who carries himself or herself like an Elf of 100.

Elves, High and Blood, are blessed with extraordinarily long lifespans and an easy, graceful aging process that features none of the ravages of age that plague other folk. Time does not even begin to touch an Elf until she passes almost two centuries in age. For two human lifespans, sometimes three, she remains in bloom of youth her features indistinguishable from those of a 20-year old Elf girl.

A High Elf, however, is rarely considered truly mature by his peers before reaching at least 110 years of age. Blood Elves live faster and reduce that age almost by half, accrediting maturity to youngsters barely 60 winters old!

Elves reach middle age at 175, are considered old at 263 and they become venerable elders once they reach a majestic winter count of 350. Beyond that threshold they live for a maximum of 400 years without magical aid before passing away. However, there are many causes of High Elves whose life spans reached 700 years with a group of record-bearers who prolonged their mortal existence to an awe-inspiring 2000 years! "Magical aid" is the keywords. After all, arcane magic is the elves' greatest ally! A small effort of their wills allows them to draw sustenance from the Sunwell and enjoy life and vigor for many ages beyond their natural lifespan.

---
Society vs. individuals
- Authoritarian culture, and the tendency were only heightened after genocide. With the species still recovering from near annihilation, it's a bad time to be a rebel.
---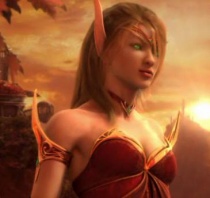 ---
Chapter Three Attitude/Behavior:
Most blood elves are not insane or evil—they just choose to fight fire with fire. They are suffering due to the loss of their precious Sunwell; they all needed—and still need—to feed on arcane energies, even though most of them aren't spell-casters. The most powerful blood elf spell-casters are insane, as the magic they wield is corrupting. On the other hand, the Farstriders, using little magic, are considered to be the epitome of selfless dedication. This blood elven sect is considered valiant, honorable and noble on the official site and is one of the few groups that still have any of these virtues.

While they hate most races, they have come to accept the Forsaken, as they share the same goals. The western Horde recognizes the blood elves as dangerous, volatile and ultimately destructive. The Horde orcs, Darkspear trolls and tauren distrust the blood elves, as their addiction to magic makes the high elves look like amateurs. In particular, the orcs revile the blood elves because they see them as descending down the same path toward damnation that so corrupted the orcish people — the orcs can smell the demon taint on the blood elves and know how badly it will twist them. The blood elves consider the Horde to be barbarians who refuse to grasp power in front of them.

They especially dislike the orcs, who should have been strong enough to control the power the demons gave them instead of falling under their command. Blood elves reek of fel power, offending the spiritual senses of night elves and tauren.
Blood elves feel betrayed by the Alliance and are enemies of both humanity and the night elves. The blood elves try to draw the remaining high elves into their fold — a concept the goodly high elves view with horror and revulsion. Indeed, the existence of the blood elves demonstrates the depth of the corruption possible for this once mighty race, and the high elves see them as a dire warning.

Many high elves seek to make amends for evils wrought by their demented kin. Blood elves get along well with the naga — with whom they share Highborne ancestry — and other independent factions. They are not welcome in Alliance lands. The Alliance represents all that the blood elves hate in the world. The humans led the Exodus from Lordaeron, abandoning the blood elves to the Scourge, taking many high elves with them. The high elves are weak; they have potential to reach blood elf status, but they will not embrace the power and therefore are of little use.

The night elves are remembered as the elves who banished them from their homes so very long ago, and those grudges still run deep. The other races are disliked merely for their representation in the Alliance — the friend of my enemy is my enemy, so to speak. The Alliance view them as dangerous (and mad, in some cases). The arcane spell-casters in the Alliance agree that the blood elves have gone too far in their quest for power — even the high elves are sickened and frightened by their former allies' loss of compassion and self-control. The blood elves have little use for the Alliance, and the downfall of this faction is next on their list after they have purged the Scourge from Quel'thalas. However, this view may have changed as with King Varian's return as he has come to understand their position through Valeera Sanguinar.

---
Languages:
Blood elves speak Thalassian and Common due to being close to the humans for so long in the past.
---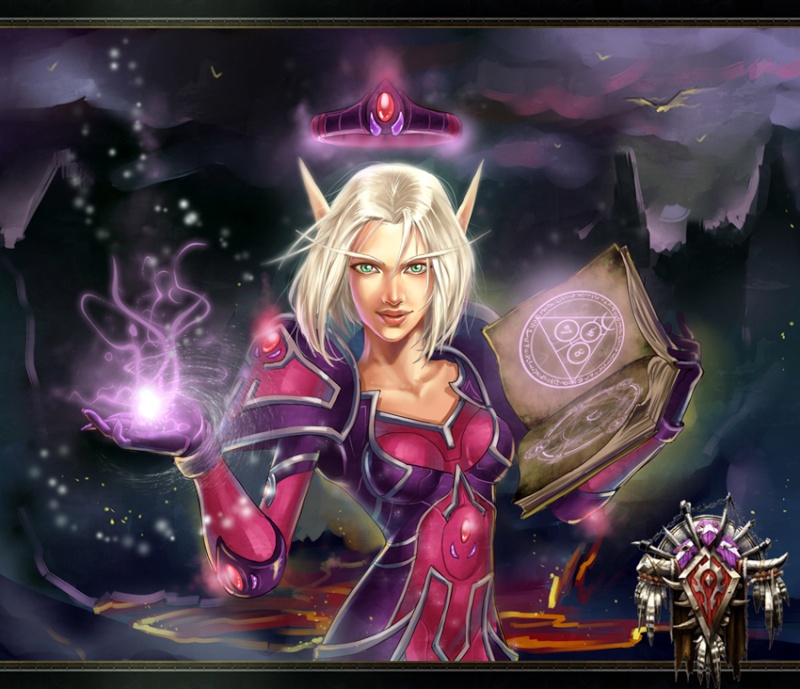 ---
Chapter four: Appearances
Clothing
Blood Elves' dressing habits did not stray far from those of their High Elven cousins: they dress in simple, comfortable clothing and their garb always has an elegance in keeping with their normally graceful bearing. Linen, silk, cotton and wool are common fabrics of elven clothing and their tailors have developed the skill to spin even the coarsest of natural fibers into incredibly fine thread that is then tightly woven into soft cloth of surprising strength. Leathers and furs are commonly used to endow clothes with strength and protection.

Leather is always tanned to a fine, supple texture. Furs provide both warmth and elegance so all fair-skinned elves often incorporate it into their garb. Soft furs such as rabbit or lynx are preferred over bear and other rough-textured furs. Spider silk, certain mosses and fibers of flower stalks are also sometimes spun into their cloth. Finally, elves use magical treatment and weave different fibers together to create tactile interest and combine the characteristics of different types of cloth.
Colors and styles of clothing vary with individual taste. Blood Elves who live in the country prefer muted tones that help them blend into the surrounding forest; city-dwelling Sin'dorei prefer bright colors that range from pastel to jewel tones. Dyes are mostly drawn from plant-based natural sources, but many magic-using Blood Elves use Transmutation magic for the same effect. Multihued garments are reasonably common, but the patterns of those colors are rarely geometric. Elves prefer irregular swatches of color that resemble sun-dappled forest floor, wind-tossed storm clouds and, last but not least, complex designs of flowing, growing patterns, often adorned with floral motifs.

High and Blood Elves see adornment and elegance of style as declarations of individuality and a highly-civilized society. A tunic, cloak or pair of trousers may be adorned with embroidery, encrusted with tiny gems or decorated with bits of polished wood. Alternatively, an item of clothing may be cut or pierced in some dramatic way. Embroidery can range from a border done in a contrasting color to a fantastic design prominently displayed on a sleeve or bodice. Metallic threads are sometimes used for such embellishments by wealthier elves, but the colors of nature, ranging from muted earth tones to bright colors of the sun, sky, sea, moon or brilliant flowers are more commonly chosen. Leather and fur are also dyed at times, but are mostly left natural and adorned in other ways.

Fastenings made of metal are rare, base metals are almost never used in elven clothing although precious metals may be used as adornment. Usually elven clothing is fastened with hooks or buttons made of polished wood, carved bone and ivory fasteners or leather straps are also common.

Footwear typically consists of boots made of supple leather affixed to sturdy soles made of wood or hardened leather; more delicate footwear is sometimes used for ceremonial purposes. Sandals composed of leather soles secured to the bottoms of the feet by long thread or leather thongs laced up to the calf are often used as footgear for dancing or pursuits requiring only minimal protection. Shoes carved into fantastic designs from crystal or other precious materials are sometimes used by the wealthiest of nobles in most important affairs.

All elven clothing, whether for daily wear or important ceremonies is styled for comfort and ease of movement; To an elf, clothing that binds, restricts and fails to give protection, warmth or comfort in situations it is intended for is worse than useless.

Almost all elves wear jewelry of some kind. The materials may or may be not of exceptional value, but they are always worked to enhance their beauty rather than left rustic and natural. Circlets, necklaces, earrings, bracelets, armbands, anklets and rings are common. Designs are invariably light and airy rather than ostentatious and bulky and often reflect nature in some stylized way. Pendants shaped like birds or leaves are common, as are circlets whose lines are reminiscent of running water. Gemstones are often incorporated into jewelry designs, usually in a way that integrates them with the whole of the piece. Huge, crudely cut and polished gemstones plunked into hammered gold settings and floating chunks of rough crystal are for humans and orcs; elves prefer lightness, artistry and delicacy in their jewelry.

Typical garb for either gender consists of a tunic and trousers covered by a cloak or robe. The tunic is usually made of fine, tightly woven linen, wool or silk and trousers are often made of wool spun fine and tightly woven. Cloaks are made of sturdy cloth because they serve a variety of purposes. They may be worn for warmth, wrapped around oneself for resting or spread on the ground to sit on. Travelling cloaks are usually dyed brown, green or some combination of these colors to help blend in with the surroundings. Cloaks worn in towns and cities are usually brilliantly colored and richly decorated, often with fur or feathers.

Elegantly cut robes and gowns are beloved by elves attending ceremonial functions and spell-casters. Such gown lends itself well to unusual designs and is often cut to expose chest, legs or midriff.

---

---
Grooming
The iconic elven individualism gives rise to devotion for personal grooming unequalled in most other races. The elves' strong respect for self-engenders an inborn desire to care for their own bodies - especially since these bodies must last for hundreds and even thousands of years.

Thus, High and Blood Elves have raised grooming to the level of a daily ritual. Each Blood Elven dwelling has access to running water, either in the form of a bathing room to which it is provided directly from the Elemental Plane via a portal (controlled with a simple tap) or a natural waterway nearby. Elves bathe daily, as mentioned above, and they may do it with others of their kind or alone, depending on preference and their preference may change according to mood. Joining an elf in bathing without permission is considered particularly rude. No societal mores ban bathing with the opposite sex, but doing so represents a great deal of intimacy rarely seen outside of families.

Elves produce natural soaps from plant materials that degrade quickly in water. Thus, their penchant for thorough cleaning does no harm to plants, animals nor elementals which may live in the water where they bathe.

Unlike most other races elves take exceptional care of their teeth. Once or twice a day they chew green twigs and force their frayed ends between their teeth to clean out bits of food and shine their teeth. This level of care ensues that they generally lose teeth only due to injury or accident.

Most elves wear their hair long and keep it brushed to a sheen. Brushing such long, fine tresses takes considerable time though, so elves do not regret this and treat brushing as yet an another daily ritual. The rhythm of the brushing movement induces a state of calmness many find useful for thinking through matters of all kinds, while some simply enjoy the tactile sensation. After it is brushed, the hair is styled in whatever way appeals to the individual elf. Some, particularly Blood Knights, braid their hair to keep it away from their faces or choose intimidating, spiky hairdos. Others let it flow freely in cascading locks, pile it atop their heads, twine it with strings of pearls and other gemstones or artfully pin up portions of it with jeweled hairclips.

Tattooing is not an unknown concept among elves, but Quel' and Sin'dorei express vastly different attitudes towards it. Quel'dorei found such alteration too permanent for their tastes. An adult Quel'dorei who tattoos his skin is making a statement about himself that will last for hundreds of years, so the design chosen in one that always fits his personality and tastes. Sin'dorei on the other hand, often tattoo their skin out of simple defiance towards High Elven values and to look intimidating. Painting their skin with kohl or henna or other washable dyes is popular among both racial offshoots. Elves often create elaborate and artistic designs on their skin out of sheer joy of doing so, though some decorate themselves with designs fit for a particular occasion such as wedding, funeral, adventure or other kinds of life-altering events. Body piercings are not as rare as tattoos as many elves enjoy finding new places on their bodies to display jewelry.

The tight weave of most elven clothing makes it resistant to stains and dirt, so elves rarely appear soiled even after sleeping on forest floor. Elven clothes take a long time to make and adorn so they treat them with respect. They wash them often and frequently use special oils and magic to prevent tearing and staining.

---
---
Characteristics /appearance
Blood elves between the Third War and Current WoW timeline were physically identical to high elves, save that they dressed primarily in blacks and reds to remind themselves of their terrible losses. Many painted runes or mysterious tattoos on their faces, arms and shoulders for warding off demons or celebrating significant kills or simply to look intimidating — something high elves would never do. As well, they adopted hair styles that went against the norms of high elf society.

Nevertheless when approaching Alliance towns blood elves would often disguise themselves as high elves to avoid harm. Sin'dorei are also likely have long life spans, and as well, they may grow old and age in a similar way to high elves. How fast they age is unknown but there is evidence of some Sin'dorei being old enough to have existed since their exile from their Kal'dorei cousins.
Blood Elves are taller and more willowy compared to Humans. Their height ranges from 5'7" to 6'4" and they generally weigh 100 to 175 pounds. Males and females are usually equal in height, although males are somewhat more muscular. Elves' lithe bodies are perfectly proportioned, and their movements are almost supernaturally graceful.

Blood Elves have retained the High Elf hair color palette (white to flaxen colored hair), but blacks, browns and reds are not unheard of. Likewise, their skin tones are similar to High Elven, but due to the usage of fel energies some Blood Elves find their skin becoming ruddier or unnaturally pale. Sometimes they develop markings on their skin which may look like odd red tattoos. Facial hair occurs only on males and in very little amounts.

Blood Elves' features are misleadingly similar to those of High Elves, well-defined and elegant, although sharper and more angular than those of humans. Their almond-shaped eyes can be blue, green, red, violet, gold, silver or lavender, however, their true colour is almost uniformly obscured by a green glow due to use of fel energies. Their long ears steep upwards to pointed ends - a factor many claim to contribute to their acute hearing.

Males:
Blood elven males typically have slender, muscular, and athletic bodies. They also possess long pointy ears, acute senses and keen sight in the darkness. Night elves have long, slanted ears while blood elves' ears are shorter and tend to point upwards.

Females:
Blood elven females can possess much the same, albeit typically sporting a slim elven physique. Like all elves, blood elves are considered highly attractive by the standards of most mortal races.

---

---
High Elf and Blood Elf differences:
While it was once believed that blood elves and high elves were exactly the same biological race, separated more by cultural differences than physiological ones, it has since been determined that they are, in fact, beginning to evolve into a separate race, due largely to their consumption of mana from primarily fel sources. This reliance on fel magic causes the eyes of blood elves to glow green with demonic fire. This readily available source of energy also tends to give blood elves a ruddier or paler look compared to their quel'dorei cousins. A blood elf can appear like a high elf bearing odd red tattoos across his or her face and arms. However, his or her hair and skin is much paler than that of a high elf, their eyes glint with a green light, and they wear blood-red robes. These represent signs of evolution from their high elven cousins, and it is believed that, with time, they may become as physically distant to high elves as satyrs are to night elves.
Fel Elves:
Recently, those blood elves which were most loyal to Kael'thas Sunstrider have been gifted by Kil'jaeden with the privilege of engorging themselves on copious amounts of demonic blood, seemingly hastening their demonic evolution into what have come to be known as felblood elves, developing a variety of demonic traits in the process. Those blood elves and high elves who succumb to their magical addiction and descend into madness are counted among the Wretched.

---

---

---
Chapter five:
Magic, addiction, corruption
The other unique physical aspect of Blood Elves, aside from longevity, is their natural inclination toward magic. This dates back to the dawn of the race, when the elven nation made it's home by the Well of Eternity - more on this in the History section. But even since the exile from Kalimdor, for the last seven thousand years, all High Elves were born into the Sunwell's influence, immersed in Arcane magic from birth. This gives them both a predisposition and an addiction to arcane magic.
The positive aspect is that magic comes easily to them. Any Blood Elf can and even should know at least trivial magic - lighting a candle with a conjured spark, mending small tears in clothing with a word, chilling the wine in a glass to drinking temperature, and so forth. This isn't special to them - using magic for comfort, convenience and entertainment is as normal to Blood Elves as using technology for it is to modern humans. Reflecting this in role-play as /emoted spells is acceptable, even good. Brooms that sweep by themselves, chandeliers that levitate and portals as a mode of transport are commonplace, even to those who can't perform more advanced magic themselves.

The flipside of magical convenience is dependence on energies that make it possible. Deprived of magic, Blood Elves become physically sick, and eventually degenerate into permanently insane Wretched. The struggle is rather like the situation of an old alcoholic - they no longer get pleasure from normal quantities of their poison of choice, they just plain need it to function normally. Deprived of the Sunwell's influence after the Third War, the race was temporarily forced to subsist of anything they could - in this case, the fel energies supplied by Prince Kael'thas's allegiance to the Burning Legion. The vast majority of the population didn't know, at the time that they were consuming demonic energy - they would have been horrified had they known. However, lore tells us the Blood Elves eyes glow fel-green as a direct result of the fel corruption they sustained from drinking demonic magic. It also suggests that while ambient magic is negligible, particularly powerful bursts of Arcane still have a pleasurable side effect, and that Fel has a similar effect, though with "darker overtones" (which in role-play has frequently translated to vaguely sadomasochistic, and occasionally sexual).

The Sunwell was restored shortly before the Wrath of the Lich King launch, and for the last few years, Blood Elves have again existed in a magic rich environment. Their addictions are once again catered to by simply living in Silvermoon, and need no longer be a controlling factor of Blood Elf role-play. How to reflect this in RP is up to individual choice. A few years isn't very long in an elven lifespan, so ignoring fel corruption is one option. The standard lore is that fel corruption makes subjects more selfish, more hedonist, more impulsive and cruel - roleplaying this, for example as a lingering after effect or something the character experienced at the time and now feels shame for, is also an option. The important thing at present is to remember that the addiction is no longer crippling to anyone who lives in Silvermoon - there is no need to dash about like a demented dope fiend looking for the next mana fix.
---
Dealing the addiction:
Due to their addiction, a blood elf must spend one hour each morning in meditation, resisting any distractions from their withdrawal. Blood elves have learned to slake their thirst through the absorption of fel energies. If the blood elf partakes of demon's blood, the magic addiction abates for a number of days.
---

---
Chapter Six Culture and Society
Authoritarian society, formal and serene, honorable traditions - but under the peaceful veneer also fiercely passionate creatures with a dark underbelly of arrogance, hidden vices, arcane addiction and recent fel corruption
Magisters, Farstriders, Blood Knights, the royal family (now the Regent) - lore institutions of note
---
Sin'dorei Culture
Blood elves wear crimson-colored robes to suggest their fiery affiliation and the blood of the fallen elves in Quel'Thalas. Many concentrate on studying arcane and fire magic, as opposed to the traditional frost and water spells of their lost high elf society.

Blood elf architecture is much like high elf architecture (Allerian Stronghold as an example of high elf architecture in-game) it involves pendulous creations of wondrous curves and columns, its designs natural, floral, flowing, animal, and borrows much from the Art Nouveau style. Their fountains seem to defy physical boundaries, creating or warping water in impossible ways. Blood elves have flags that feature a phoenix. In the Third War, blood mages had the ability to call phoenixes from the Elemental Plane of fire. These creatures appear to be deeply connected with the blood elves, possibly because they share a destructive nature, or perhaps due to their purely magical composition. This could allow the blood elves to have increased control over them. Since the phoenix dies and becomes reborn, it could be a symbol for the blood elves — the blood elves metaphorically 'died' as high elves and were reborn as blood elves.

---
Trading with other races:
The goblins are the only merchants who will sell to the blood elves without prejudice; if an Alliance or Horde merchant would even allow a blood elf to look at their goods, they would most certainly raise the prices astronomically. The troll tribes often have items or information of use to the blood elves, and they hate the night elves with almost the same passion.
---
Opinions on neutral races:
The blood elves have few opinions on the other independent races — those that worship a divine power are weaklings, and those that remain neutral are of little consequence.
- Attitudes to other races
Horde: ancient enmity with Trolls, uneasy history with the Forsaken, new allegiances with the Orcs, fundamental philosophical difference with the Tauren
Alliance: former human allies, exiles from the Kaldorei, Draenai serve both the Ally-enemy and the Naaru saviors of the Sin'dorei race

---

---
Chapter seven: Leisure
Arts and Crafts
Unlike the rest of Horde races, Blood Elves value art for its own sake. An object of art need not to be anything but beautiful to be prized in their society and they have a habit of turning mundane objects into things of beauty. Strictly utilitarian objects are fine in case of emergency, but why not make them beautiful as well? Creating functional objects with no beauty is often considered lazy and wasteful in both time and resources.

The visual arts are highly valued in Blood Elven society and examples are abound in every household and on every street. Architecture shows this best: floors are neatly paved with red and white rock, walls reach up high in elegant, flowing lines. Buildings are adorned with a web of gold and red ornamentation that resembles flowing water and culminates in stylized phoenix wings, elegantly enhancing rather than overwhelming the basic structure. Entrances and gateways are veiled by thin muslin curtains, gracefully billowing in the wind. Nature itself shows that the Blood Elves have not lost their love for beauty as bushes and flowers are carefully tended to and trees grow in smooth, spiraling curves.

A similar love for beauty and detail is prevalent in other, small-scale crafts: paintings, sculptures, glassware's, carpentry, pottery, textiles and fashion design, jewelry making, weapon and armor smiting and all manner of crafts are considered forms of self-expression.

---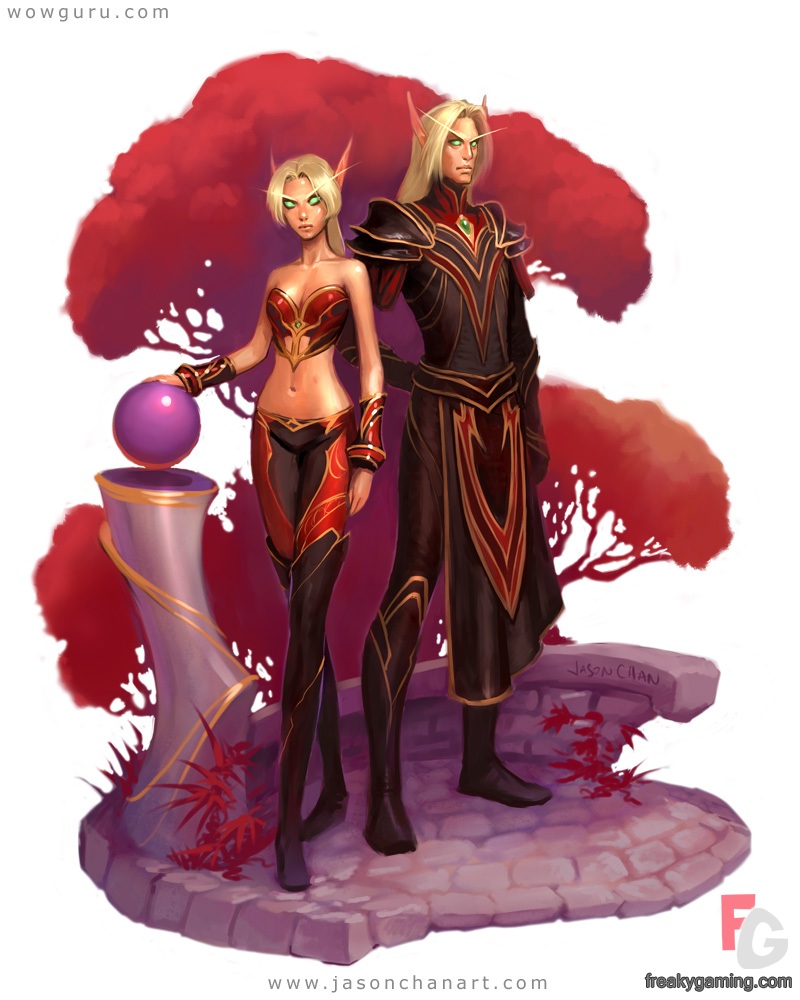 ---
Chapter Eight: History
Below is a summary of blood elven history, following their origins from their ancient past as the servitors of Queen Azshara, to the founding of Quel'Thalas and its destruction at the hands of Arthas.
Kaldorei
Origins - Primitive humanoids settle by the edge of the Well of Eternity and begin constructing homes. The Well's power affects the humanoids, making them strong, wise and virtually immortal. These humanoids come to be known as the Kaldorei. The servitors of the queen, the Highborne, develop the ability to manipulate and control the Well's energies. Azshara and her Highborne practice their spellcraft with reckless abandon.

10,000 years before Warcraft 1 - Azshara agrees to summon Sargeras into the world through a portal. The Burning Legion begins their invasion of Azeroth. Malfurion Stormrage seeks the aid of Cenarius and aids the beleaguered night elves in storming the capital city of Zin-Azshari. The ensuing battle between Malfurion and Azshara throws the Highborne's spellwork into chaos and the portal destabalises, throwing the Well into turmoil. The Well implodes and destroys 80% of Kalimdor's landmass.

7,300 years before Warcraft 1 - Unwilling to forsake magic entirely, the surviving Highborne under Dath'remar Sunstrider unleash a magical storm across the new home of the night elves. Malfurion sends the Highborne into exile across the sea, but not before they steal a vial of water taken from the Well of Eternity.
---
Quel'dorei
6,800 years before Warcraft 1 - The high elves land upon the shores of Lordaeron and eventually make their way northwards, founding the kingdom of Quel'Thalas within the forests. Upon a convergence of ley lines, the mystical Sunwell is created as a font of powerful energy gleamed from the stolen vial of the Well of Eternity. Silvermoon City, the new capital, is discovered to have been built upon sacred troll ruins, and thus the Amani Empire begins attacking the elves en masse. Dath'remar prevails and the trolls retreat into their massive stone cities. Runestones are erected on the borders of Quel'Thalas, to disguise the spell-craft of the elves from the Burning Legion, and to ward away the superstitious trolls.

2,800 years before Warcraft 1 - As the Amani Empire emerges from the darkness to lay siege to Quel'Thalas, the scattered tribes of humans unite under the Arathi tribe and found their own kingdom of Arathor as a means of protecting themselves against the savage trolls. Desperate, the high elves send ambassadors to King Thoradin of Arathor to plead for military aid, agreeing to teach one hundred humans the ways of the arcane in return. The coalition of elves and humans clash with the troll empire and smashes its armies in a titanic battle from which they would never truly recover. King Anasterian Sunstrider swears an oath of friendship between Quel'Thalas and the descendants of Thoradin.

2,700 years before Warcraft 1 - The eager apprentices of the original one hundred human magi found the magical kingdom of Dalaran and accidently tear the fabric of reality around their city as a result of their sorcery. As panic ensues, the Convocation of Silvermoon dispatches its finest sorcerers and enters a secret pact with the lords of Dalaran. The Guardians of Tirisfal are founded and they agree to empower a single mortal champion to wage a hidden war against the Burning Legion and the misuse of magical ability.

6 years after Warcraft 1 - As the news of the First War reaches Lordaeron, King Terenas Menethil II sends word to King Anasterian of the high elves in a bid to garner his aid to combat an impending invasion by merciless green humanoids known as orcs. Unconvinced, but unable to refuse due to the oath sworn to the descendants of Thoradin, Quel'Thalas sends a token detachment of six destroyers accompanied by rangers led by Alleria Windrunner. The Second War begins, but the elves only commit to the war as the orcs reach the borders of their kingdom, aided by the hated forest trolls, and raze the outer woodlands. At the end of the Second War, Quel'Thalas withdraws its support from the Alliance of Lordaeron, blaming the humans' poor leadership for the burning of Eversong Woods. The high elves shut themselves within their kingdom.

20 years after Warcraft 1 - With the need to ressurect the fallen necromancer Kel'thuzad, Prince Arthas Menethil leads the undead Scourge in an invasion of Quel'Thalas. Bypassing the powerful magical defenses of the elves thanks to the betrayal of Lord Dar'Khan Drathir, the Scourge steamrolls through the land of the high elves, creating what is now known as the Dead Scar. Ranger General Sylvanas, King Anasterian and the wielder of Quel'Delar, Thalorien Dawnseeker, all fall to Arthas' advance. The Sunwell is befouled as Kel'thuzad is ressurected as a lich in its waters, and eventually explodes; depriving the high elves of its nurturing power.

---

---
Sin'dorei, their history and birth.
Ten thousand years ago, during the reign of the night elf Queen Azshara, there was an elite magic-using sect known as the Highborne, who dabbled in magic that many other elves considered heretical by drawing upon the power of the Well of Eternity. Fiercely loyal to their queen, the Highborne opened a number of portals under her direction that brought forth the Burning Legion, triggering the War of the Ancients. Sometime after the Great Sundering, most of the surviving Highborne were exiled from Kalimdor and settled in the eastern continent, founding the kingdom of Quel'Thalas. They became known as high elves. During this time, they created the Sunwell, and switched to a diurnal waking cycle. Their purple skin eventually faded to a pale peach color, like that of some humans and dwarves.

(So yes, this means that High Elves and Blood Elves trace back to Kal'dorei, night elves.)
During the Third War, Prince Arthas led his army of the Scourge against them, ravaging Quel'Thalas and corrupting the Sunwell. Most of what was left of Quel'Thalas was burned down by the high elves in an effort to give the Scourge a psychological victory and leave the few high elves left who were making their last stand on Sunstrider Isle. Despite their efforts, most of the high elven population were eradicated during this conflict. In remembrance of their fallen brethren, most of them renamed themselves the blood elves, or sin'dorei, and swore to avenge their fallen race.
---
The Sin'dorei and Kael'thas Sunstrider
Those now known as blood elves were once high elves. In the transition that led to this renaming, they glorified their civilization while discarding their honor. Life for the blood elves changed during the Third War, when King Arthas' Scourge sacked Quel'Thalas and shattered the elven race. The Scourge slew more than 90% of the high elven population, devastating their culture.

Prince Kael'thas Sunstrider was studying magic in Dalaran at the time of the disaster. He returned from his studies to find Quel'Thalas in ruins. Thirsting for vengeance, Kael'thas gathered the survivors and renamed them "blood elves" in honor of their fallen kin. Prior to the Sunwell's destruction, all high elves were constantly bathed in its magical power. Now bereft of this arcane energy, the blood elves (and high elves) suffered from their withdrawals. Kael'thas claimed that they would soon die without another magical source to replace the Sunwell. The blood elves therefore set about learning to drain magic from alternative sources.

Soon, the blood elves clashed with the Scourge and the Amani trolls, who were making inroads into former elven territory. The blood elves defended their homeland, and, eventually, having reestablished a degree of safety to their land and prevented their society from degenerating, Kael'thas left his homeland. He took a group of the strongest blood elf warriors and spell casters and joined the Alliance against the Scourge. They were eager to avenge themselves on the undead forces; however, bigotry prevented the human forces from seeing the aid the blood elves could bring to their fight. Due to those human prejudices, Kael'thas was forced to accept the assistance of the naga queen's servant, Lady Vashj, and the reptilian naga. When the humans discovered that the blood elves were working with the naga, they were imprisoned and sentenced to death by the racist human Grand Marshall Garithos (who had commanded the New Alliance). The blood elves who sided themselves with Kael'thas escaped with the aid of the naga, fled to Outland, and joined Illidan Stormrage's forces. This group of blood elves then helped defeat the demon Magtheridon and claimed his Black Citadel as their own.

In exchange for the blood elves' loyal service, Illidan gave them a place to live, as well as further techniques to siphon mana from anything with arcane power. Blood elves in Outland now hunt demons and feed off the demons' magic. As a consequence, despite what other races might suspect, blood elves are hardly on friendly terms with demons. Indeed, blood elves view demons with abhorrence as well. Even blood elf warlocks believe demons are useful tools, not potential allies. Not every blood elf lives in Outland. Most blood elves still live in Azeroth, particularly in Quel'Thalas. These blood elves seek to reclaim their lost homeland and destroy the Scourge at any cost. A lone representative, Rommath, was sent back to Azeroth with a message of hope for the blood elves remaining in Quel'Thalas: That one day Kael'thas would return to lead his people to paradise. Rommath has made great progress in teaching the blood elves advanced techniques to manipulate arcane energies. With renewed purpose, the blood elves have now rebuilt the city of Silvermoon, though it is powered by volatile magics. Emboldened by the promise of Kael'thas' return, the weary citizens of Quel'Thalas now focus on regaining their strength, even as they forge a new path into an uncertain future. While they despise most other races, they have come to accept that the Forsaken are different, or at least share the same goals as the blood elves. The blood elves in Outland do not give the Alliance or the Horde much thought. They are busy seeking power and honing their abilities.

---

---
Aadaria-Ioanna wrote:

Post-Reclamation Blood Elf mentality: return to Light

- Rebuilding began with the restoration of the Sunwell, but will continue for decades and centuries yet, before the race has recovered it's former strength. Vengeance for Quel'thalas was claimed when Arthas fell in Northrend. The Blood Knights have pledged loyalty to the Naaru, and regent Lor'themar has pledged the Sin'dorei to the Horde. The Blood Elves have a place in the world again and some direction, but with Cataclysm, the world is about to go to pieces around them. - How this applies to roleplay: in many ways, the Blood Elves have passed a turning point in their history. Alliances have been broken and made - for better or for worse, they now owe their existence to the Horde and their sanity to the Naaru, and this has been fact long enough to sink in. The most immediate targets for Sin'dorei vengeance have been destroyed, and with the pure energies of the Sunwell rather than fel magic slaking their addictions, many may be remembering gentler Quel'dorei values. Deathwing changes all this, and throw the Sin'dorei back into wartime again. How does your character take to this - with the Quel'dorei mentality of safeguarding the world, or with the Sin'dorei mentality of surviving at any cost, and paying the price later?
I do wish more Blood Elf players would act to this.
Very nice read, this guide. Enjoyed it very much!

erwtenpeller




Posts

: 6481


Join date

: 2011-06-03


Age

: 32


Location

: Netherlands

Character sheet
Name:
Title:


One thing I do like to point out at that part is that the Blood Elves have never been "firm" believers of the Light. Some have, many didn't. After the Third War nobody really believed in the Light, and to still be able to use its power they captured a Naaru.

Also, it doesn't really work that most elves are no longer feladdicted, as you cannot change one addiction with another. The elves are most likely still (somewhat) feldependant. Ofcourse, a few may have switched... but the majority might need their felfix every now and then.

And I doubt most Blood Elves would know commom as the humans have never really been (long enough) in Quel'thalas.

But these are just tiny details in a very...very well written guide! -saves it to computer to reread every now and then-
_____________________________________________________
Horde:
Sin'dorei Aishling Silversun - Crimson Imperium - Working in Silvermoon
Pandaren Houjin Monk: Mao-Teng Swiftstrike - Traveling.
Alliance:
Human(Worgen) Death Knight Aeron Turner - Killing, somewhere.
(A)Pandaren Tushui Monk: Xen-Tau Swiftstrike - Finding a place to live
Idea borrowed from: Nilda Meyrick and Monrena

Xen-tau




Posts

: 536


Join date

: 2010-10-02


Age

: 28

Character sheet
Name: Aishling Silversun/Dawncaller
Title: Magistrix


Aishling wrote:One thing I do like to point out at that part is that the Blood Elves have never been "firm" believers of the Light. Some have, many didn't. After the Third War nobody really believed in the Light, and to still be able to use its power they captured a Naaru.
Then why was the priest unit in Warcraft three an elf, and not a human?
I imagine the majority of the faithful High Elfs stuck with the alliance, or neutral factions in Shattrath or the Argents, rather then join their Blood Elf brethren in their new order.
The thing is though that that part is
over
, and has been over for some time. The Blood Knight order now follows the Naaru with Lady Liadrin, as would the majority of holy priests.

erwtenpeller




Posts

: 6481


Join date

: 2011-06-03


Age

: 32


Location

: Netherlands

Character sheet
Name:
Title:


Because elves are better at controlling magic? And didn't some High Elves go against Anasterians orders to help the alliance?

And it's rather hard to say wich way Blood Elves have gone in terms of religious view, Liadrin speaks of the light and nothing about Naaru, wich is strange. On a scale I'd see them more Naaru than human holy light.

Considering where she is and how much she interacts with players outside the Sunwell (none as far a I know), Lorthemar may have just put here there to keep her from interfering in Silvermoon and to keep that bit of influence out of the Blood Knights.

Kristeas Sunbinder




Posts

: 4720


Join date

: 2010-01-31


Age

: 28


Location

: In Netherlands, Is swedish.

Character sheet
Name: Kristeas Sunbinder
Title: Operative for Sin Belore


I keep getting told that the developers stated that they are no longer following the Warcraft cannon, as in WoW is its own universe, so WC3 was apart of that old cannon. It's uhh, what DC did concerning Batman after the million plot-holes were pointed out.

Tiffane




Posts

: 6


Join date

: 2011-05-14



I've never heard of that, but I do know they have changed the way some things went down in warcraft 3, like the initial opening of the dark portal. I can't remember the details; but they changed it for TBC and people got mad.

erwtenpeller




Posts

: 6481


Join date

: 2011-06-03


Age

: 32


Location

: Netherlands

Character sheet
Name:
Title:



---
Permissions in this forum:
You
cannot
reply to topics in this forum