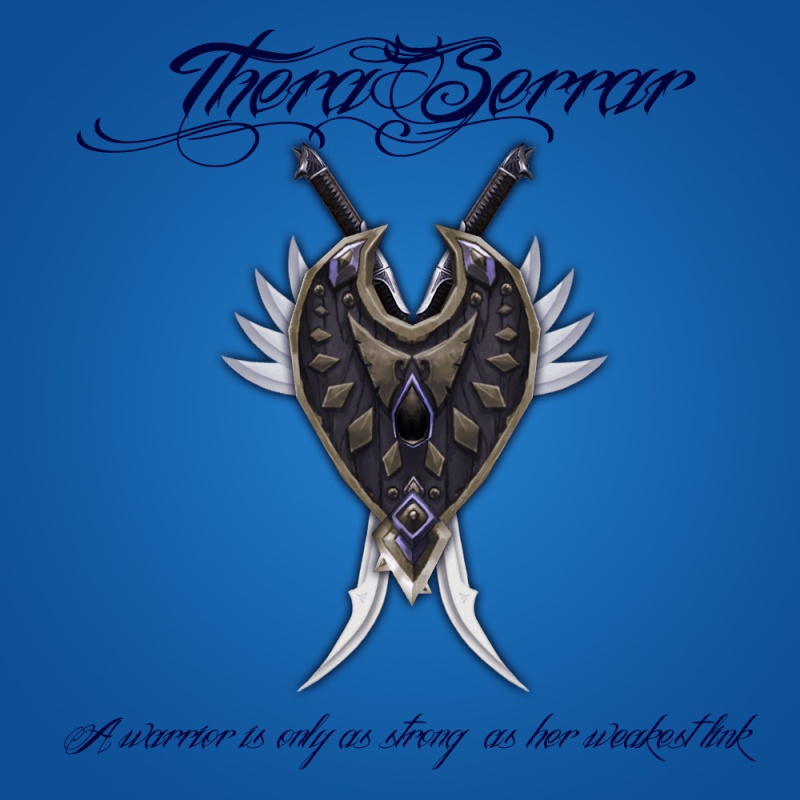 Who we are
Thera Serrar is mainly a matriarchy, which means that we only accept females and there'll be no exceptions. We are a bunch of able bodied, strong and rough female warriors and hunters with a motto that explains why we are a matriarchy.
"
A warrior is only as strong as her weakest link.
"
(Think about what a man's weakest link is...)
What we do
We do various things to rotate the RP and not just stick with the same events over and over again. Here are some of the more regular events that we do.
● Fight of trolls that are controlling our base, Jintha'alor.
● Make regular hunting trips all around Azeroth.
● Make regular trips down to Stormwind and Ironforge.
● Aid allies, if asked to.
● Relaxed RP at the base.
● Training.
We'll also arrange RP-events with other guilds. So if you're interested in aiding us, or asking for our aid, feel free to contact anyone of the officers.
Background
Thera Serrar was founded by the Former Sentinel Anadyia. After a certain incident, where Anadyia purposely allowed innocent villagers to die only to ensure the death of the demons holding the town hostage, she was exiled from the elven society. During her trail, she blamed the death of the villagers on the elven leader's inability to take action and spoke about how the elven society needed to become stronger. After the trail, she was believed to be dangerous, and thus exiled. Before she left, she gathered her old comrades and other like-minded individuals, who became the founding members of Thera Serrar.
For many centuries, Thera Serrar wandered the world, seeking strength and honing their skills. They never entered elven towns, but from time to time sent out scouts to find promising recruits.
As the years passed, they grew larger and stronger. At one point, Anaydia decided it was time for Thera Serrar to have a home of their own, once again. So they left the elven lands of Kalimdor for good and set sail across the ocean, eventually reaching Eastern Kingdoms. For a long while, they searched for a place to settle down. Then they finally stumbled upon Jintha'alor in the Hinterlands. They fought a hard and long battle, with heavy casualties. Their numbers were reached to mere handfuls, but in the end Thera Serrar stood victorious and now had a place for them to call their own.
View on factions, races and classes
● The Alliance, save for elves: Friendly
● The Horde: Unfriendly to Hostile, depending on our mood.
● Death Knight's, in general: Neutral
● Night Elves, not the race but the way their society works: Unfriendly
● Fel magic: Unfriendly
Everything else is Neutral. This is of course for the guild in general, and not for every single member.
Ranks
●
Initiate
- The Initiate has not proven either her strength or courage just yet. The dangerous feat of strength awaits her.
●
Sister
- The Sister has proven herself strong enough to join the military forces.
●
Battle-maiden
- As a battle-maiden you have earned the leader's trust and therefore receive some privileges.
●
Shan'Serrar
(
Officer
) - The
Honored Blades
have not only earned the leader's trust, but they have proved them countless times that they are more than worthy enough to reach this rank.
●
Serrar'dorei
-
Children of the Blade
. The children of the deceased founder of Thera Serrar. It is however possible to attain this rank by marrying into the family, either with the leader herself or her twin sister.
●
Leader
(
GM
) - All the previous ranks are being led by the prestigious leader.
Requirements
All races, religions and classes are welcome.
Your character has to be a
female
and we would prefer if it's over level 40 as the mobs in Jintha'alor are level 34
-ish
, but the level is not necessary and we can protect you if you're under level 30.
How to join
IC:
Come up to us after, or before, the Council meetings every Tuesday. We'll be at almost every meeting. Afterwards we'll probably be dwelling in one of the Inn's or at the Cathedral before we head back up to our basecamp.
You can send a letter to either Aeneth or Ethylin and we'll answer them and set up a meeting for our next journey to Stormwind.
You're also very welcome up to the beautiful forests of Hinterlands and surprise us with a meeting. But be wary of the trolls surrounding our area.
OOC:
Poke someone from the guild ingame and ask for a officer.
GM:
Ethylin
Officers:
Aeneth
Ithiania
Aliiss
If you have any questions, feel free to poke either me or Ethylin ingame or send a PM here on the forum.
-
Aeneth & Ethylin Starblade
Interesting Idea for a guild, I like it

Celistra




Posts

: 161


Join date

: 2010-02-04


Location

: Parts Unkown

Character sheet
Name: Celistra Silverstrike
Title: Captain of Sin Belore, Councilor of War of Silvermoon


What we do

● Make sandwiches
Fixed.

Sullee Swiftspeech




Posts

: 414


Join date

: 2011-07-29



Sullee Swiftspeech wrote:

What we do

● Make sandwiches

Fixed.
Thanks, I forgot to inform that we have a brand new kitchen. The sandwiches are on us, all are welcome up to the Hinterlands! But be wary of the 'groin-kickers'


Larnira




Posts

: 182


Join date

: 2011-10-07


Age

: 72


Location

: Warsaw,Poland

Character sheet
Name: Larnira Darkmist
Title: Cadet in the Blades for Hire



---
Permissions in this forum:
You
cannot
reply to topics in this forum