IC
It is as he predicted. The Mists have finally cleared and the way south is open. It is time to rejoin the world, as my father wished for the Order many years ago, when I was just a boy. The history behind the Order goes back many more years. Ara'Tul, founder of my order, washed up on shore. Pandaren was his race. My great grandfather taught him the common tongue and in turn, he tought my father his ways. Now, I have made the decision to open the Order to those willing to seek its guidance. Pandaria and a new home awaits.
A brief Overview
A few months ago, I came up with the concept of bringing in a "Blind Monk Guild." I absolutely love the concept behind blinded monks/priests and I love the atmosphere of MoP. I feel that the upcoming expansion is therefore perfect to kick start this guild. I've had a rethink over the concept and I've taken inspiration from Buddhist monks with the way in which they perceive life, wisdom and compassion along with Shaolin Monks and Samurai in their training methods and devotion to a cause. The guild revolves around the idea of "Every action has a consiquence." and the mists parting being one of the warning signs that there are troubles ahead. They decide to join the world and learn about the Alliance. They'll remain pacifists to a certain extent. If someone attacks them, their training allows them to fight back, but they will not start nor look for a fight.

Why would I want to join this guild?
If you're looking for a very fresh and different idea for a guild, this will fit you nicely. I'm not literally basing it off of anything, but instead creating a new segment of lore that doesn't conflict with any other. Fresh beliefs, fresh concept and new zone role-play. If you're into the concept of the Samurai merged with that of the Buddhist monk, you'll enjoy the RP I intend to provide. Dojo training, seeking enlightenment, offering aid to the less fortunate, courtyard training and so on.

What does this guild offer to the community?
More atmosphere to the new expansion. Events and fresh faces to RP with!
Rank System
Layman -
The most basic rank. A trainee in the ways of the Ara'Tul.
Aspirant -
A well learnt member of the order.
Disciple -
An adept member who has chosen their path.
Elder -
A very well respected and long serving member.
Grand Elder -
The leader of the Order.
Upon joining the order, you take the role of a Disciple until you have learnt the basics of fighting, well versed in the beliefs of the order and attuned with our ways. An Elder can name a Disciple Navaka when he believes he is ready. To achieve the rank of Thera, one must undergo the test that determines what path they will undergo. The Two Paths are...
The Way of the Warrior
The Way of Wisdom
The Thera is the highest non-officer rank. It is a position of great esteem and honour to achieve. To advance to the rank of Elder, you must prove yourself in someway, be it a heroic act, a high sense of leadership and understanding or long time serving with the Ara'Tul.
If you choose to, you can perform the ritual of Kar'lasu (The Blinding) when you reach the rank of Thera. This is - if you read my IC text - a mark of respect and sacrifice to Ara'Tul, the founder. Illidan's Blindfold is a perfect in game item to show this and I'll encourage BT raiding to get one for members who wish to do so, though it is not compulsory.

Beliefs
Ara'Tul was a Pandaren refugee who washed up on the shores of the Eastern Kingdoms many years ago and he is seen as an almost 'saint'. The Order believes in a balance above all. They don't seek to correct or alter the balance, but they understand any great act will have a devistating one to follow and vice versa. It is the acceptance of war and atrocities and appreciation to the good that the Order thrives on. It is not the search for world peace but instead peace in one's self they seek. You cannot fix the world, but you can be content with the flow of life. They do not specifically believe in a higher being nor have disbelief in one, they simply question and do not feel the need to fill in the gaps with their own, simple opinion. There are many unexplainable things in the world and they do not dissuade the use of them. They do, however, notice evil and understand it. They will not aid evil but their first intention won't be to destroy it. Demons, however, are a prime concern. They're beings of destruction and death. They see no rightful place for them in the balance. Their land will be a safe zone and a place of refuge. I do not want to give all of it away, but this is a general understanding of the belief system I have conjured in me noggin'.
Races/Classes
Originally, I set out to make a Blind Monk guild and found out that it is only a part of what I want to create with this guild. Instead, I've changed the concept a fair amount (if anyone had read it previously and remembered, it was a lot more limited.) and now, in terms of classes, we accept all but Warlock. (Unless, said Warlock is secretive in their magic but if fel magic were to be used, they would be expelled from the order. A similar thing with Death Knights; though they do not seek to allow them entry, if one was very promising and convinced them, they'd be allowed entry. I'd like to keep the entire recruitment system IC and not put down any huge limitations prior to meeting someone's character.
As for Races, it had previously been only Humans and Dwarves but now, having rethought the idea, every single race can belong in the Order, so long as they become accustom to its ways. Though I'm afraid, it is Alliance only!
Location
Pandaria is my prime destination. The Order has been in solitary until now, finally, with the mists shifting, they'll be moving to Pandaria to train in the Dojos that are spread around. I have yet to find a specific one - and would be incredibly grateful if anyone who has access to the Beta and a high level char could find one ideal for the guild - but I intend to find a blue shielded dojo/courtyard area, be it a town or an abandoned one. Something like...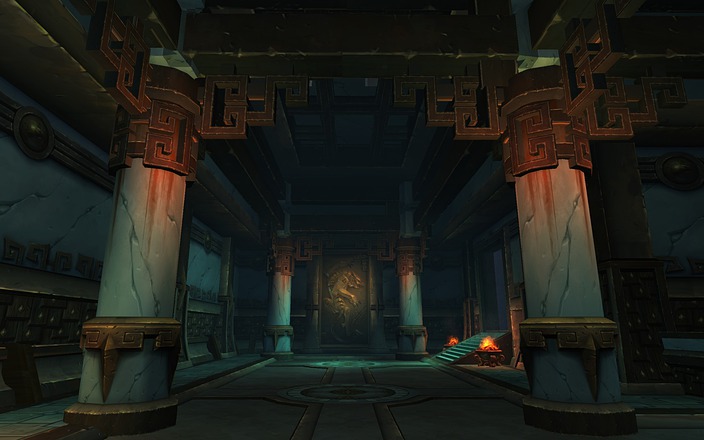 If no safe zone is found in Mists, Elwynn Forrest will provide a steady amount of role-play being so close to the city. The Order has a strong IC reason to be there as they're becoming less recluse and wanting to learn more of the world.
How do I join?
Post in this thread if you're interested. You can reserve a character name and tell me it, if you wish. I'll be bumping this prior to Mists and then when it comes out also. Otherwise, you can contact me on any in game character (look at my signature) and ask for more info / show interest there.
Last edited by Vaell on Tue Jul 31, 2012 5:21 am; edited 3 times in total

Vaell




Posts

: 2902


Join date

: 2012-01-22


Age

: 26

Character sheet
Name:
Title:


I'd be very interested in joining on my upcoming gnome monk who I intended on being blind. However if gnomes ain't allowed, I wish you good luck my friend!

Hermie




Posts

: 476


Join date

: 2011-09-06

Character sheet
Name:
Title:


OLD POST, OLD IDEA, NEW CONCEPT IMPLIMENTED.
Last edited by Vaell on Mon Jul 30, 2012 3:46 pm; edited 1 time in total

Vaell




Posts

: 2902


Join date

: 2012-01-22


Age

: 26

Character sheet
Name:
Title:


The Oxen are slow... But the earth is patient...

Lexgrad




Posts

: 6140


Join date

: 2011-03-12


Age

: 36

Character sheet
Name:
Title:


Bump for fresh look at my latest guild idea!

Unlike the Lionheart Company, this guild will work even if I'm the only member so it is 100% going forth!

Vaell




Posts

: 2902


Join date

: 2012-01-22


Age

: 26

Character sheet
Name:
Title:


Really, really cool. I wish you the best of luck!

erwtenpeller




Posts

: 6481


Join date

: 2011-06-03


Age

: 32


Location

: Netherlands

Character sheet
Name:
Title:


Right.
Let me get started with the good stuff. You seem to have done a little research, and got the skeleton structure of Buddhist thought at your command, ready to apply it to World of Warcraft. Knowing a little about Buddhism myself, I feel like I owe it to this effort to comment on it.
Ranks
First of all, from your placing of the ranks
Thera
and
Navaka
I can only persume you based your ranks off of
Thai monastic traditions
, without knowing the meaning of some of the words. From what I know,
Thera
already means Elder in Sanskrit, which would give you two ranks that mean the same thing, which is odd to say the least.
Also,
Aniki
can either mean
Grace
in Hebrew, or be a Japanese honorific for "Respected big brother/superior". Given the dominating oriental flavor, I persume you'd want to conjure up the Japanese connotations over the Hebrew ones. That makes it an odd title for the highest ranked disciple in the order, to say the least.
For this reason, I say, either go all the way with Oriental titles, or stick to English titles.
Example of Oriental:
Spoiler:

Samanera / Samanen — a novice monk who has yet to receive higher ordination


Vavaka — a newly ordained monk


Nissaya-muttaka — a monk who has spent five years in the monkhood


Majjhima — a monk who has spent between five to ten years in the Order (middle rank)


Thera— a monk who has spent ten years or more in the monkhood and is eligible to be a preceptor (upajjhaya, one who ordains other monks)


Maha-thera — often used to refer to a monk who has spent twenty years or more in the Order
Example of roughly the same in the English language:
Spoiler:

Layman - a novice monk who has yet to receive higher ordination


Aspirant - a newly ordained monk


Disciple/Monk - a middle rank


Elder - a high rank


Grand Elder / Master - highest rank of the order.
Location
There is only one Sanctuary in the whole of Pandaria, and that would be the
Peak of Serenity
, a.k.a the Moonglade for Monks. Here's a video tour:
Spoiler:
Misc. thoughts
I feel like the name "Ara'tul" does not sound very Pandaren. It sounds more like a ancient Troll name, especially because of the "Tul" suffix that reminds one of "Thul". which is more commonly associated with Trolls. I would recommend renaming it to something that has firmer roots in Chinese. Even swapping the apostrophe for a hyphen will make it sound more Pandaren: "Ara-Tul". For extra credit, throw some Chinese sounding vowels in there, for example, "Zhao-Tszul".
As for your general concept, I think it is
highly
specific and seems to be based off of a certain
character
concept, rather than being based on broaded concept that is independant of any character. I think the idea for a
character
who has Buddhist ideals and has undergone a ritual to make himself blind is great, but I am not sure if this has enough weight to carry an entire guild. It seems to me that in this case, the idea for a character came first, and the guild came after that -- sometimes, that works, but ofentimes, it does not. I am not saying this to be disheartening or any thing, but I will remark that in a more broader and general monastic and/or Pandaren-inspired guild, there will be space for characters like yours, and then some.
Regardless of how it turns out, I will look forward to roleplaying with you coming Mists, as I will be doing my best to explore Pandaren spirituality on a Monk. I guess I will see you on top of the snowy Peak of Serenity -- be sure to say hi to that meditating ball of black-and-white fuzz wading in the hot springs next to the Jade Serpent statue!

Thelos




Posts

: 3392


Join date

: 2011-07-18


Age

: 27


Location

: The Netherlands

Character sheet
Name:
Title:


Thank you for the feedback but I feel you have taken it too literal, Thelos! I agree with your decision on the ranks and thus have edited them accordingly, I was already in the process of making the decision to go full English / Oriental, however, the ranks could have said Gobbeldeegook and still made sense to most people due to how I'm sure not many people know as much about Buddhism as you.

The main thing to understand is take every reference to any kind of real history or teaching with a pinch of salt. I've got inspiration from it but I've steered away for that very reason. I have average to lesser knowledge on the subjects and am approaching this from an entirely fictional perspective. If the teachings of Ara'Tul were to suddenly teach that rainbows meant death, it is all fictional based and only stylised around the concepts I pointed out, e.g Buddhism.

As for location, is that just for Monks or can any class get to the peak?

Originally, 6 months ago, the character sort of came first. The Blind Monk is a common and reoccuring theme used in various medias (E.g, Lee Sin from LoL/Blind Priest from Oblivion) and in a former Star Wars RP, I produced a guild around the race of the Miraluka (which is a blind race) with similar ideals though more attuned for that lore. I've been getting inspiration from various sources over the last few weeks (Films and games) to get something like this going again. I don't see the idea as specific at all. It is as specific as the Chapter, I'd say. Even it doesn't pan out then obviously my character may move on, but currently I've altered it to the point where I think i could build interest for it; events with training being a bit more adventerous and a rich history behind the guild should give it some movement. I am not going into it with a selfish find, I assure you, my character concept is sort of the Mr. Miyagi, I'm basing it around the concept of the guild more than anything at the moment.

There are a lot of things I haven't given away yet but the concept of the guild goes far deeper. Hence the name. I won't reveal anything about that though over a forum and save it entirely till the RP. There are 'secrets' in the history I've come up with and as one progresses through the guild, they'll learn more.

EDIT: The reason I've formed a guild around this concept is because, like me, I'm sure there are others who like the oriental theme of Pandaria but find the Pandaren race too silly to RP. I'm allowing them to join the guild, but I can't rp a race that is commonly used as the 'cute joke' so to speak and wanted to create a more open atmosphere than a Pandaren only guild would have.

Vaell




Posts

: 2902


Join date

: 2012-01-22


Age

: 26

Character sheet
Name:
Title:


Vaell wrote:
As for location, is that just for Monks or can any class get to the peak?

The Peak is like the Archeus for Death Knights and Moonglade for Druids: anyone can get there, but Monks have it a little easier because they get a teleport ability.
Well, I wish you best of luck with this guild. I will look forward to interacting with its characters with my own pandaren monk when mists hits!

Thelos




Posts

: 3392


Join date

: 2011-07-18


Age

: 27


Location

: The Netherlands

Character sheet
Name:
Title:


Employ worgen as "seeing eye dogs" kthnx.

erwtenpeller




Posts

: 6481


Join date

: 2011-06-03


Age

: 32


Location

: Netherlands

Character sheet
Name:
Title:



---
Permissions in this forum:
You
cannot
reply to topics in this forum