(Might aswell post here in the correct forum, *eyes Gazzek*)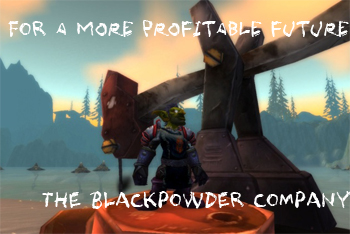 Introduction
Orgrimmar and several Horde-alligned settlements in central and eastern Kalimdor now experience a flourish in recruiting-posters and banners, in the name of the Blackpowder Company. It would seem that the Company's rise to power and influence has taken a new step into the sky.
"
Guns, tanks, choppers and good ol' warfare. Is this something for you? Then idle no longer. The Blackpowder Company needs you! All with a hunger for the use of weaponry and explosives, sign up today and become part of the latest and hottest industrial and modernised organisation of the Horde! The Company offers a long and diverse chain of where -you- may choose what to be! Do you want to sell, buy and produce in the trademark of Blackpowder? Or do you merely want to kick ass and take names with an unending supply of weapons, munitions and contracts? if the Horde was a man, Garrosh would be the blade and we the canister-shell cannon.

Sign up today, comrades! No undeads.
"
OOC:
Our main focus is roleplaying, but we do try to look for other aspects of the game as opportunities rise, such as World-PvP and PvE. We are interested in holding events within and outside of our guild, that is with other guilds that roleplay.
Merging of the two fine companies brought together a more diverese guild. With all races (except forsaken). While the guild is IC:ly still under goblin management they are realistic in their job offerings and would not turn down some muscle from other races, do not be shy to contact any online individual of the Company. Alternatively you may visit our website in order to learn more of who we are and what we do!
Our link: - http://www.theblackpowdercompany.com/
Introduction video: http://vimeo.com/21206171

Cur




Posts

: 454


Join date

: 2010-02-06

Character sheet
Name:
Title:


Bumping these guys for being the best of their kind around!

Rhenchu




Posts

: 215


Join date

: 2010-05-09


Age

: 24


Location

: Pandaria

Character sheet
Name: Rhenchu
Title: Brewmaster of Kalimdor


After a few minor changes and issues with keeping the guild alive, a change in leadership have made me Razlow Refelix, The Rocket Fuel Baron of Fuselight!

Rhenchu




Posts

: 215


Join date

: 2010-05-09


Age

: 24


Location

: Pandaria

Character sheet
Name: Rhenchu
Title: Brewmaster of Kalimdor


Is this guild still relatively alive? And who might I best go about contacting, should I want to try and organize something with you green folk?

_____________________________________________________
OH NOES WHY R ANIMALZ ON MUH FACEZ?!?!
No, the guild isn't active. Someone logs in one time, does something. Then logs off.

cenn




Posts

: 31


Join date

: 2011-02-23




Similar topics
---
Permissions in this forum:
You
cannot
reply to topics in this forum