Page 3 of 3 •

1, 2, 3

Corleth/Greagoir wrote:

Osmand wrote:

Every good deed counts no matter how small!

Some recitation like that which i cannot quite remember

Bernard 12: A grain of sand leaves an invisible trace upon the face of a rock, a million grains of sand and thousands of years reduce a mountain to nothing. So shall every good deed count towards the Greater Good.

you forgot the best one!!
No no a different one
edit: may not be one but it feels like it is...

Osmand




Posts

: 219


Join date

: 2010-05-14


Age

: 25


Location

: Ireland.

Character sheet
Name: Brother Osmand Lightguard
Title: Abbot


Osmand wrote:

Corleth/Greagoir wrote:

Osmand wrote:

Every good deed counts no matter how small!

Some recitation like that which i cannot quite remember

Bernard 12: A grain of sand leaves an invisible trace upon the face of a rock, a million grains of sand and thousands of years reduce a mountain to nothing. So shall every good deed count towards the Greater Good.

you forgot the best one!!

No no a different one

edit: may not be one but it feels like it is...
Well... dont beat your self up about it.... oh wait... XD

Lexgrad




Posts

: 6140


Join date

: 2011-03-12


Age

: 36

Character sheet
Name:
Title:


The Chapter of Holy Anethion
Our Guild Forum
Are you willing to die a martyrs death? To commit your life to the Sacred Duty? To raise arms and smite down any kind of heresy and cultism you shall encounter on your path? Are you willing to abide by the rules, the Faith, the discipline needed in the name of Anethion?

Are you a preacher, a tutor, a fighter, a man or woman with an iron will, determined to do what's right? Then do read on. But know that if your Faith does not prove sufficient, that if you are found to soft at heart, then you will be asked to leave, for among us, so called zealous people, there is no room for a bleeding heart.
The Chapter of Holy Anethion is an alliance role-playing guild, mainly for humans. In the early days of The Chapter, we were a zealous inquisition hunting down heretics and cultists and we still are. We expect our people to be Faithful, disciplined and strong. Our people are not allowed to be to intimate with those who are not human and do not follow our ways. For those who does not feel the need to smite, to make people repent their doings and send them into the ever after, we have various options. . But first let me tell you a little more about who and what we are…
Our concept is built around two things;
Our interpretation of the Holy Light, defending human interests and protecting human culture. We seek to enlighten those who does not follow the right path, those too blind to see that the only way is the way of Anethion. And by doing this, we also seek to remove and destroy all evil on our path.

Our In-Character goals:
- Cleansing the lands of heretics; be it non faithful, criminals, those who worship and use darker powers/faiths.
- Destruction of the Horde and the Scourge.
- Spreading Anethionism to every household and every family
- Educating every human in the art of war, so that he may defend his home and making him proud of his race and nation
- Unification of humanity under king Varian Wrynn.
- Establishing humanity as the dominant world-power
Among our people, we are one but still divided.

The Inquisition:
Witch-Hunters, Inquisitors, Confessors, Shadowbreakers, Thaumaturges and the High Inquisitor.
Each their own rank, each their own duties.
The Ecclesiastic Court;
Lectors, Confessors, the Abbot.
Our ranks and our process:
We do our recruitment In-Character and we do it properly.
The first step is to convert you into Anethionism. This is done through a rite where you swear a sacred oath.
When that is done, and you do wish to not just be an Anetheonian (as yes you can convert to our Faith without joining our ranks) but a member of our order you will be given an invite and the first rank among us: Canon.
Canons are the rank for the new, for the ones who has yet to prove their Faith, for the ones that simply do not strive to become something more.
If you seek to get further you will be given the rank Aspirant. An Aspirant is either a: Shadowbreaker, Lector, Tharmatuge or a Witch-Hunter in training. Do note: To become a Witch-Hunter you need to be handpicked. You can not join us and seek to become one, you can utter the wish, but there are no guarantees.
Later on you will become either of those ranks if you are proved worthy, Faithful and qualified.
Confessors; Confessors are the more fanatical half of the Clergy, Lectors who are so fanatic in their belief that they join the Inquisition. Among their duties are exorcisms, interrogation and keeping the Chapters soul pure.
Inquisitors; Inquisitors are specialists in their subject, and are often much more experienced than the common Witch hunter within the Chapters ranks. Their identities are often kept secret even to their fellow brothers and sisters. So they live a life in disguise, Light-willingly.
Do note:
The time it takes to go from Canon - Aspirant varies on the person, their progress, their online time. The time it takes from becoming an Aspirant to a higher rank does not just depend on your online time, if two people become aspirants at the same time, both let us say wishes to become a Shadowbreaker, it is not their time spent.. That matters, its how they spend it, how easy they learn and make progress. So the time can vary immensely depending on how well you do.
More information about our specific ranks can be found on our forum.
Shades of Gray
As you might have realized by now, we are no ordinary good knight guild, saving damsel's in distress. Our concept is quite dark, as we are not interested in a philosophical Good or Evil, but simply in the eradication of all enemies and adversaries of humanity.
Now who sets the definition of someone is evil or not? The answer is simple: The Light does!
We are merciless and without remorse against our enemies, a seldom time we might given the right situation show some mercy. But it is not to be expected at all. When that is said we do of course not kill you if you out of character do not give your consent. But there are other ways to harm, ruin and punish those who work against the Light.
To the outside we try to disguise our harsh and zealot ways with righteousness and propaganda, clothed in the cloak of justice, we will seldom do the "right" thing in the eyes of the commoner, in the eyes of most we are evil, in the eyes of some we are a necessity with our evil, non merciful ways. Weal of humanity is the only thing that matters, we are; warmongers, horde-haters and mistrustful of other alliance races to a degree, helping our allies is not a question of Duty, but of mutual benefit..
Beyond these things what do we do?
- We make and participate in role-play events and world pvp roleplay events, we hold mass in the Cathedral or the Abbey, we have tests for our members, we hold meetings, we hand out tasks (but do note we also expect our members to take their own initiative. Meaning you will not get a new task of some kind each time you log on.)
There are more things we do and to give you a little secret information. Despite the hard work it might seem to be, as a member of this guild, we are nice people who knows how to have a good time Both In-Character and Out of Character.
Now if you find this interesting so far, then read on and ask yourself these coming questions before you make the choice to seek or not seek us out:
- Are you willing to go so deep into your character that you will read an IC book containing more than 40 pages of text, are you willing to actually learn most of that text and follow it as if it was your holy book?
If not.. Then turn around… ICly we are truly devoted to our Faith, rules and prophets. It is not easy to be a follower of Anethion.
We do discipline our members ICly. We test their Faith, through tests of their knowledge of their own Faith, through trials with physical ic aspects as well. And we do not let people slack.
- Are you tired of ICly being a pacifist? Are you willing to spend time taking part in planning and contribute in world pvp - rp? Are you willing to do an effort instead of expecting to have things handed in your lap all the time? Are you able to create role-play and not just seek it out?
- Are you willing to lay the shiny armour away, put on filthy cloths and old used up robes and spend ic time on your knees praying, meditating, spreading the word of Anethion - take up arms, spend hours sneaking around in order to find our enemies, learn of their ways and doings - be a confessor to your fellow people and their enemies as they speak of their sins, to exorcise the wicked at need - to harm and torture should needed be any man or woman you are ordered to harm?
If you do not fit in the category as a fanatic, a patriot, a preacher, a warrior who's world is coloured black and white, or a stealthy warrior of vengeance. - Then you might want to reconsider joining us.
Do you?
Consider humans more worthy and put their interest before any other?
For us humanity comes first, in any aspect and any way.
Our people are not allowed to be to intimate with those who are not of human or high elven blood and do not follow our ways.
Do you prefer a dark concept of war, hard moral choices, grim reality, to a fairytale of knights and princesses?
Do you think that Inquisitions and fanatics are an interesting concept?
Do you want to be on "the good side", without being a complete goody?
Do you like the idea of being in a guild with rich player-made lore?
Do you want to join up on a bold attempt to create a large roleplay community?
Do you like hats?
Look at your answers, if you do feel interested still, whispers an officer ingame (Osmand, Paragus, Corleth, Greagoir, Aadaria, Jehorius) or check out our forums (at the top)!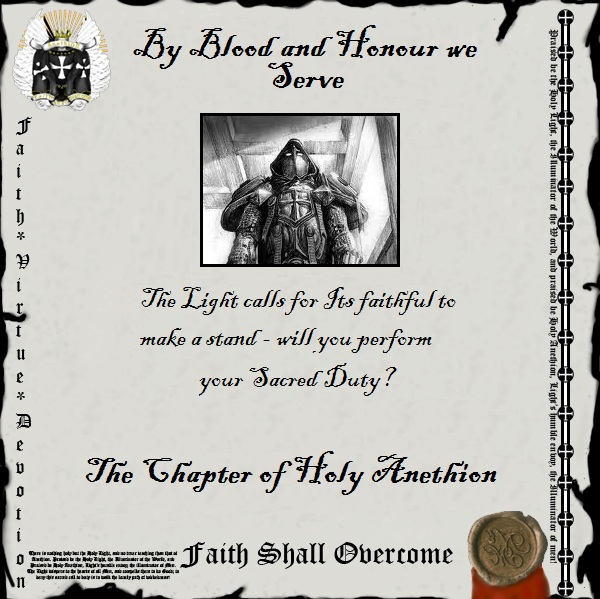 Champions of the White-Cross.
Let the Shadowbreakers be the faceless defenders of humanity, who bring justice where there is evil, illumination where there is ignorance, safety where there is dread, faith where there is doubt. No agent of evil will stand in their way! All who are marked Light's Enemy will die by their blades, and may the Light be their judge! Light guide the Shadowbreakers to strike the wicked and spare the innocent.
The Chapter seeks men and women whose arms are as strong as their faith, whose ruthless piety will inspire fear in the apostate but courage in the innocent. If you seek to roleplay a character whose mind and spirit are impregnable and live a life of purity and fervour - convert to Anethionism and it's Chapter; so that you may walk the blessed path of the Shadowbreaker. The protectorate of the Clergy and the overtly militant arm of the Inquisition!
Whisper Jehorius, Osmand, Greagoir or Aadaria for more information.
Page 3 of 3 •

1, 2, 3

---
Permissions in this forum:
You
cannot
reply to topics in this forum